The Sounds of War
January 28, 2013
Melanie froze when she heard a gunshot coming from the near distance. She smelt the familiar smell of fresh ashes from a fire but stood, dazed. She never understood why men jumped at the chance to fight, or why they felt a sense of pride when they held guns in their hands. Once, before the war started, she had asked her brother, James, why he was so thrilled to join the army.

"It's satisfaction, Melanie," he had said. "A man who fights for his country – a man who risks his life for the home he loves, and the people he loves, and comes back a hero; that's the men we want to be."

As much as she understood what her brother had said, Melanie couldn't help but feel that melancholy feeling, lingering inside her: what if the men who went to war didn't come back? What if her own brother never returned, and never got to be recognized as a hero?

Melanie often spoke to her friends and other women on the streets about the events of the war, and often times, they were just as paralyzed from fright as she. She watched children's faces as they gazed longingly at photos of their fathers and brothers, and saw them tremble at the sound of gunshots. But, alas, the fight for independence had begun, and there was nothing any of them could do but listen to the screams of pain, and cry tears of sadness that rung so loud that they echoed above the sounds of the shots being fired in the distance.

Everybody hoped that one day they'd be reunited with their loved once who had left to fight in a better place, where war would not exist, and no one could die. They wished to reside in a place where the sounds heard were not gunshots, but the sound of children laughing. They wished to live in a place where they smelled newly baked bread in the mornings, and not the stench of ashes. Was it so much to ask? After seven long years of fighting, each year dragging as equally long as the last, was it wrong to hope for an easier, happy way of life?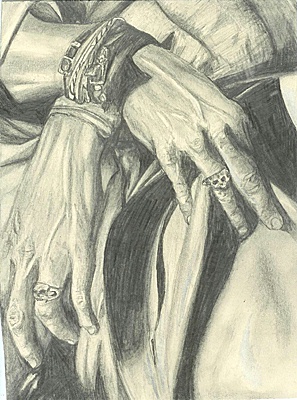 © Angela K., Kansasville, WI