"Memoirs of a Holocaust Survivor"
April 5, 2013
This paper is dedicated to my next door neighbor,
Mrs. Charlotte Foster
age 105 Jewish holocaust survivor.



Memoirs of a Holocaust survivor


Silently I pedaled my way down the empty streets, following my Father and Brother whilst dodging all light. Hearing the whistling of a Gestapo night patrolman, we quickly turned into a dark alley and continued on to our destination. I could smell the salty air as we neared the sea, and was able to make out the silhouettes of gigantic ships. All of the ships were silent and shrouded in darkness except for one. On its decks I heard faint scuffling noises and saw the flicker of a few lanterns. Men in dark clothing could be seen scurrying around the ship quietly loading boxes, suitcases, and people into the hold. We quietly rested our bikes on the ground and hesitantly walked out onto the dock. When we neared the ship a gruff looking man, standing on the dock, asked for our tickets. My father handed the man our precious tickets and the man waved my brother and I over to a platform leading onto the ship. Once on the deck a young sailor asked us for our bags. As he took them to be put in the hold, I thanked him for assisting us. He wouldn't even look me in the face; I saw fear written in his eyes. These sailors risked a lot to help us and I am eternally grateful. Finally the captain announced that it was time to depart. I blew my papa one last kiss, and then watched him fade into darkness as the ship set forth.
Germany invaded my home in Amsterdam, of the Netherlands, on May 15th, 1940. As long as I live I will always remember the thunder of marching soldiers filing into the city row, after row, after row. Life for my family was going to change drastically. We were Jews living in a city, occupied by those who wished to oppress the Jewish nation. Life was about to get hard.
I had a very happy childhood growing up in Amsterdam, there was always someone to play with, something to see or do. I had three older sisters: pretty Dinah, studious Margot, and mischievous Vera to play with plus one little brother to be annoyed by. I remember skating, ice cream, and birthday parties. And all the good things a person should remember from their childhood. My parents were good God fearing people and we were truly blessed. Papa earned a good salary while Mama stayed home, and we lived a comfortable life. I attended the exceedingly prim and proper Montgomery primary and secondary school for girls, until I was 14 years old. After the occupation Jews were required to go to Jewish only schools. They did not offer secondary schooling for Jews so I was forced to halt my education.
A singular moment I remember from my life in Amsterdam was the day my family rode our bicycles to the government offices and received the bright yellow Star of David we were to attach to all our clothes. Now rather than just being oppressed people we were marked as well, as a farmer brands his cows. After the Germans took over I had few friends. Most of my non-Jewish friends were not allowed to associate with me and most of my Jewish friends were struggling with the trials in their own lives. I grew closer to my family everyday.

Now my father was a smart man; he worked as an accountant for a shipping agency, until he was let go for being Jewish and my family was forced to leave our nice home. We moved into the Jewish ghetto and my father had to search for work just like the hundreds of other Jewish men trying to provide for their families. Life was harder in the ghetto. Food was scarce and very, very pricey. My older sisters and mother went out to find work. They got jobs doing anything from ironing, to sewing in sweat shops for some extra food money. I bartered for food, cooked, and looked after Danny when he returned home from school. We tried our very hardest to remain cheery, and made believe that this war was just a grand game. We would make believe that eating only potatoes for weeks was an adventure or that finding the best deal for some wilted vegetables was a triumph. We did it because we knew that as soon as we left our home we were faced with the cold, hard reality of war. Friends and family were taken to death camps, and hours were spent praying that we would see them again. We wanted to hope for the best. But in our hearts we knew that the war was going to get worse before it got better. Life just wasn't getting easier; it was getting even scarier. The Germans were taking whole communities and deporting them to forced labor camps.
I remember the day my oldest sister Dinah "The pretty one" came home sobbing uncontrollably. She had taken a bowl of soup over to her fiancé's apartment after she got off work. When she knocked there was no answer. So she unlocked and opened the door with the key under the mat. The apartment was wrecked; the German Gestapo had deported her fiancé the night before. She didn't know if she would ever see him again.
Barely two weeks after my 16th birthday, Papa walked solemnly into the dining room before dinnertime. It was Friday evening and he knew this was likely to be our last Sabbath together, for a very long time. The entire family gathered around our dinner table. Everyone seemed to sense that this was an important occasion. My mother took her time lighting the menorah, and my father said more than the usual prayers. He blessed each and every one of his children. After we had eaten our meager meal, my father and mother stood up and announced their plans for the survival of our family. My Father had bought two ship tickets for America and he intended to send Daniel and me on that ship. The shock registered on all our faces and I protested that Daniel and I should not go. I argued that we wouldn't know what to do, we were so young. My father silenced my cries, to let him continue. His plan was that the rest of my family was going to move to the country with all they had, wait out the war, and try to acquire other tickets to America. He would try to get us together again as soon as possible. We simply couldn't wait any longer to act. The youngest were to leave the country first then my older sisters and finally if it is God's will my Mama and Papa were to come to America and we would be a happy family! We learned that he had bought two ship tickets for America with all the extra money he had saved.
It was a good thing Papa had a decent savings. He had taken all of his carefully kept savings to the black market of Amsterdam. In return he had received only two tickets. Tickets to America were worth twenty times their weight in gold. For a Jew a ship out might mean the difference between life and death.

I had always thought myself a brave, independent person but I had never been faced with a challenge this big. Mother had a cousin in America. She did not have money for tickets to send to us but she promised that any of my Mother's family would be welcomed in her home. The plan was for Daniel and me to ride to America on the ship Vernon II. We would be traveling in steerage class and arrive on Ellis Island, New York. From here we would have to take a train to a small town in Rhode Island where my second cousin lived.
All of Sunday was spent packing and preparing for the journey. I had to keep working to keep from shaking in my shoes with the fear of the unknown. As night fell we prepared for a last supper of sorts. It was the last supper I was ever to eat with my family though I didn't know it then. I remember my father prayed asking for God to bestow upon us every imaginable blessing. We hugged and cried, then hugged again. At 11:00 pm we said our final goodbyes. We hugged so tight nobody could breathe but no one cared. Then I said goodbye to Mama and Papa. They told me to be a good girl and take care of Daniel and me. Then Papa had us load all we would take with us onto our bikes and follow him to the docks.
That journey was a defining part of my life; it played a large part in who I am today. The boat ride was worse than anything I ever had ever experienced in Amsterdam. The conditions were cramped and dank. We prayed for days that the opposition's navy would not search our ship. For it would mean certain death for the Jewish passengers and prison for the sailors. Somehow through God's grace we arrived at Ellis Island. And while most of the ship's passengers felt a sense of joy and had great expectations, I was scared. Scared of finding my way without the guidance of my family, and of a country in which I couldn't understand a drop of the language. Somehow Daniel and I made our way to the small town in Rhode Island where I would live in for the next 8 years of my life.
I worked hard to graduate from high school in America. It took me a while to learn the language well enough to continue my education. I began high school at the age of eighteen. My mother's cousin Mrs. Zahra Botts, was a very kind woman. She treated me and Daniel kindly and was a great support as I awaited news of my family. After the war ended it took me quite a while to find out what happened to my family. There were very few records of prisoners and I did not even know where in the country my family had hidden. But it seems that my family was caught by the Gestapo and sent to the Mauthausen concentration camp in Austria. Till this day there has been no word as to exactly what their fate was.
It has been many years since I have seen my family, and it will probably be many more until I see them again, in heaven. The Nazi's victims have no tombstones and there isn't any reason for me to return to the Netherlands. All that I have to remember my family by is a worn photo and the happy memories I have left in my memory. But that is all I need, I can still feel the warmth of my family's love and the selfless sacrifice they made that I could live.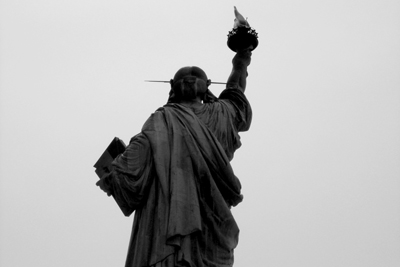 © Conor G., Harvard, MA