Going Home
January 24, 2015

        My foot falls heavy and breaks the ground. Breaks the noise of nothingness and whispers in the heated air. My eyes stare in dirt covered determination at the dust road ahead of me. A heavy breeze tells me to turn back. To go back. I do not turn back. I will not turn back.
My heart stirs from deep within me and I let myself remember the glories of it all. A dazzling palace hit by the light of a desert sun. Dancing colors and smiles in dark faces. The luxury and majesty of a king. And us. Us in captivity trying to break free, but we can't. But then kindness driven like a knife wakes a Persian king and he gives us freedom, if we want. To go, and rebuild the temple for the God of us, if we wish. I shake my head as I know it can't be real. Only a dream. Only a story told.
I try to let myself think. Do I... do I want it to be real? Do I want to feel the overwhelming peace and joy of a place far off? No. No. It is not my home anymore. I don't want to feel that. I don't want it to feel like home. It isn't mine. It is... a place stolen. A place stolen by Persian powers simply because. It was stolen by Persian powers who destroyed the temple of our God. And now they just give it back. No. I want to take it back. I want to show them that they cannot take anything. I want my people to fight and show the crushing power of my God.
When I was a girl, feet falling on the floors of Persia, stories were whispered in the sunlit night. Stories of a glorious temple and a glorious God. Sometimes words of the kings drifted in. And they... they made me feel ashamed. They were like dirt on a beautiful dress - flawing it. Ruining it. David and Solomon - two of the three kings before our people were split. Two of the very small group I can bare to remember. Two who make me proud of my heritage. I pray I can serve my God the way David did. I pray my heart can stay strong.
The heat burns me and I shake my eyes away - hoping for dirt-cleared vision. I almost glance behind me. I try again. Is it real? It cannot be real. The king of Persia would not let us go. We must steal our home back. But then heart-mending kindness. What is the world coming to? I have no idea what to dream.
        When I was a girl, the home of us only ringing in my ears, I loved to dance. Even now, as my foot meets the earth, I long to dance. My brothers dance with me. They always do. Throw me into the air and catch me falling. My brothers, who are wonderful enough to stay behind with my sick mother. Their eyes. I cried when I saw them. I still cry now. To me there is nothing braver than watching a journey leave, abandoning you - because you chose to stay. I cry because it should have been me staying. But they know my dream. Home. Life where those kings once lived. Life where my God is. Life... life where I feel safe.
        When I was a girl, I was a prisoner. Lost in a world full of mortal glory. I was ruled by men who wanted only for themselves. I remember watching them, in anger and fear, as they beat my brothers. Beat them deep into the ground. Beat them for no reason but for their disgusting bliss and pleasure. Because my brothers are not allowed to care for my mother or myself.
        My eyes become heavy and anger fills them. Heated anger fills my very soul. The pain in my brothers faces. I cannot bear to remember.... I begin to walk faster and faster, trying to banish the memories of pain from my mind. My breathing becomes heavy and I cast the memories away. Remember how to dance. Remember... to dance.
        My brain dances and leaves my body. I slip and my knee grates against the sand. Slowly, I look down at my Jewish blood without seeing it spilt across the ground. How much Jewish blood has been spilt for Persian splendor? I see us collide with the ground, dying. I see them smirking in grim glory. And then I see a Persian man sending us off... free.... no. It cannot be real. It doesn't make sense.
        A hand reaches down and swims in front of my face. I take it and it lifts me to my tired feet. Nodding, I say my thanks to a man I don't know. He nods and continues walking. He does not look back. I do not look back. For the first time since I left Persia I look around at the faces. In every face a resolute determination, in every eye a different feeling, in every heart a distinct song. But all the songs sing two things well. Two things right. They sing, "We're going home. Praise God... we're going home."
        And my heart is saying the same. Only my heart does not want to trust. I can't let it be real. I am too angry, too scared. But as I walk towards Jerusalem, I take a chance, I let it be real for a moment. I let it seep in with sweaty joy. And as a thought in salt liquid form slips to my mouth, I taste it. And it tastes like home.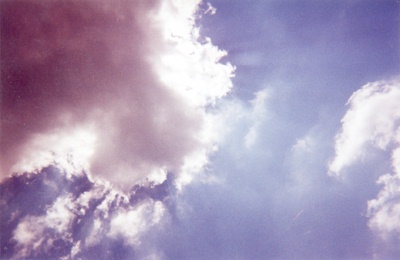 © Kena A., Huntsville, AL