The Wedding Ring
February 20, 2015
Ana was twenty when she married Joseph Ephraim. Twenty, and helplessly in love with the wild eyed, dark haired man who had proposed to her with a tine of a fork, roughly bent into a haphazard circle that fit perfectly around her dainty finger. Joseph wasn't an ideal husband, she knew- he had no job, no income, nothing to offer her but a handsome face and a gentle grin. But he was all she needed. Their first year together was wild, running from their old lives in order to start a new one together. They went from city to city, village to village, needing only each other to get by. But eventually, they settled down in a tiny Polish town, in a tiny Polish house, with tiny Polish neighbors. Joseph found a job as a cobbler, while she worked around their home, cleaning and cooking and doing all the things her mother had done for her father. And whenever she caught a glimpse of the shining piece of cutlery wrapped around her finger, she'd find herself grinning like a schoolgirl with a crush. It was a perfect life.

But as it always is with perfect lives, everything they had so carefully constructed slowly began to crumple around them. They were Jews, and the army of a man named Hitler was steadily marching coming their way. Both of them knew what that meant. It meant pain. It meant fear. It meant loss. It meant they had to run.
So Joseph quit his job, Ana sold their home, and they both went into hiding. Hiding, however, was not as easy as it had first seemed. There were always neighbors, always children, always eyes, watching their every move, and sooner rather than later, they were flushed from their safe haven, roughly separated, and thrown into two different camps. She went to Belzec, and he went to Majdanek.

The husband and wife fell into a routine, each of them working hard to stay alive. Joseph sorted through the belongings of murdered from nearby camps, slipping shiny golden tooth caps into his pockets for bribes, and Ana scrubbed clean dirty plates that had been filled with the food she so desperately needed only seconds before. Neither of their lives was easy, but both tried. For them. For the life they both wanted. After all, as Joseph put it, they still wanted to start that family of theirs. A little girl with Ana's ebony curls and a little boy with Joseph's sweet smile was still waiting to be born. So they tried. Six months passed, with each begging for the other to stay alive, as though their thoughts could cut through the barbed wire and guards and break their loved one free.

But in the end, it just wasn't enough. Purely by chance, Joseph began to sort through the wedding rings of the most recent gassings in Belzec. And when he came across the little fork tine, rubbed to a shine by her dainty fingers, he collapsed to his knees in the thousands of golden rings and sobbed.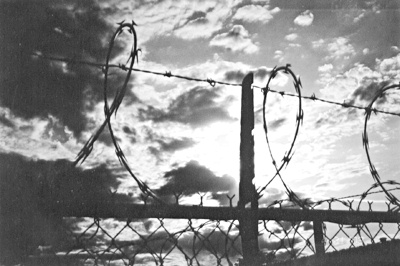 © Jessie W., Wichita Falls, TX