Stupid Isla Ricci
March 6, 2018
Fleur Lucchese is a woman of extraordinary cruelty and astonishing arrogance to match. All cromulent smile tilted in such a way I would have once been lead to believe her innocence, she saunters into the bar with a swagger and a golf pencil tucked behind her ear.

Fleur and I used to work as partners. She was the brains to my incompetence. I held the gun, she told me where to point, and I was the one in jail for it all. Fleur always said I was stupid, and maybe I am, for meeting her again. I still have the scars down my shoulders, a blow with her red-hot knife every year one of her own was in jail.

"Isla Ricci," she greets, twisting into her stool. Like a fanfare, the jazz band begins to play over her shoulder. "You know what I came here for."

I understand picking up the pieces. I nod, strangling my napkin in my fist. It's been three years, and still, this closeness unsettles me. I straighten my back and lift my chin because I am a Genovese girl, and even she can't change that.

"I know."

"Tell me. Did you kill Maranzano?"

"I didn't." I am not a liar.

"You're lying."

"I killed Maranzano."

Her shoulder c***s as she leans on the bar, her cordial countenance melting, laid back and friendly to mirror the atmosphere of the bar. "Tell me why."

Fleur and I were never friends. No, she controlled me. I only realized it years after the fact, but she knew it all along. Her father knew it, and I hated him too. Even though Uncle Luc got me what I wanted in the end, I didn't go to his funeral either.

"I remember who killed him. I don't think you'll… like the answer."

Here, cornflower eyes catch the light, framed by a halo of golden lashes, almost enough to be pretty. She clashes with the dry wood of the bar, the smoky whisky, the saxophone blaring somewhere over her shoulder, and the cigar smoke steadily staining the wood furnishings. Her hand waves, casual, as if that powerful appendage hadn't left tiger stripes down my shoulders and a necklace of gray-green pearls hanging for months under my jaw.

"Who killed him?"

"Uncle Luc."

"Papa?" Her hand falls flat on the bar.

Yes--finally, her voice trembles. I watch the shadows webbing in the corner, and I smile. So rarely was I able to do that to her. Only when I mentioned I was ever with her papa would she get that shake of doubt that made my heart soar.

Despair, morose and weak, decorating the edges of her vowels like so much frosting on a pity cake, her breath trembles again, like the guttering candles along the tables, "Papa was loyal. You're lying. Remember whose family got the power."

"I know. You said you wanted the truth." It was my job to stretch the truth, to make it work in our favor. We got what we wanted.

Fleur was arrogant. She was prideful. She wants her version of the truth, where I am the killer and her father rose to power because she was there to do his bidding.

"You're still stupid. Papa wouldn't--"

"He would. He said you were arrogant."

"No. He said you were stupid."

"He can say lots of things all at once. He knows how to speak, y'know." The ice clinks against the glass, and the music cuts off, only to start playing again. My drink burns going down.

I tell her the whole story this time, letting my voice rise and fall with the saxophone, completing what would be a pleasant tune. Her face dances, contorting beautiful angel lashes over cornflower blue, catching the smirk as it drips off her face like wax and slathering it back over her chin. Disgusting, a horrible scene, a nasty dance to good music and an even better song.

When I'm done, she lights a cigarette, and her words whisp out as smoky as her breath. "You're lying."

But no. I'm not a liar. I never was, and I think she knew that. 
"Think whatever you want. I told you what happened."

I hated Fleur, but I was never angry at her. She had a way of turning wrath to fear. She had a way of crushing. It has been three years since I've seen her, and she has changed. I suppose we both have, in seperate ways.

"Papa was loyal. He couldn't have killed Maranzano."

I consider my words a moment, and I'm nearly to the door when I decide what to say. "Y'know, Uncle Luc told me you were arrogant. He told me to let you believe I had killed Maranzano because you were too stupid to see the truth."

I pass the saxophonist on my way out. I'm hovering between the bar and the stoop, one hand on the door, letting the notes stick to the hem of my dress.

I suppose I could have given her what she wanted. I could have pointed my gun at my own head this time, and shot where she told me to shoot.

"Isla, wait." Her voice is trembling, shattering as she slams the bar and sends the ice clinking once more in the glass. The noise grinds to a sudden halt. "Tell me Papa didn't do it."

I could have been stupid enough to tell her that.

Hesitantly, as if he was watching us shyly through his fingers, the saxophonist starts playing again.

"I'm not a liar, Fleur. I'm not so stupid either."

The door bangs closed behind me. I can still hear the music through the cracks in the dry brick, leaking out as if to chase me down the street. Once, I would have gone back in, apologized, and handed myself over for Maranzano's murder.

Three years ago, he was killed. It wasn't my fault.

I wonder if anything I was in jail for ever was my fault.

Maybe, in a few years, I will hate myself for continuing away from the bar with this realization heavy on my back. Maybe I will want vengeance. Maybe I'll call myself stupid, curse Fleur's name again, when the fear of her is long gone.

Today, I am not stupid. I am only Isla Ricci.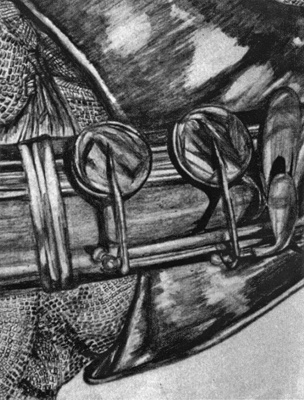 © Kelsey B., Cohasset, MA