A Swiftly Turning Page
April 21, 2009
Cautiously, I lifted my headphones from my ears and was greeted with the inhuman sound of my parents arguing…again. Once more their sheer volume had forced my hand; when I could no longer drown them out, and still retain my hearing, with music, I'd walk the three blocks to the library and spend the afternoon in the company of stories as old and familiar as the raggedy stuffed cat perched on my pillow. Grabbing my windbreaker as I headed for the door, I paused only long enough to hastily scribble a note on the pad by the phone.
Miss Daniels, the head librarian, had to be positively ancient because she had simply been old when I started coming here; I was two, now I'm almost sixteen. She always had a smile and a book under the counter for me, and as I was in every day, we'd gotten to know each other. She liked apples, lemonade, and calling me Quiet Karen. Today's book was Pride and Prejudice, my favorite book in the whole world. I smiled at the volume; the once immaculate cover was now well worn from all the times it had kept me company. I walked over to my very favorite chair, with full intention of loosing myself in the world of Elizabeth Bennet, when my phone went off. Glancing down, wanting nothing more than to press ignore, I recognized my mothers' cell number. I answered.
Moments later, I hung up in shock. Fear, anger, confusion, loss, hurt, and a curious sadness that burned like the acid from a science experiment long passed. She couldn't be serious, could she? She just said that she and Daddy were separating, and that her and I were going to live with Aunt Sarah; Aunt Sarah lives on the other side of the country! My book fell to the floor, and tears poured down my face. Suddenly, I found myself in the warm, steadying embrace of Miss Daniels; I turned and sobbed into her shoulder while she whispered that everything would be all right.
My mother greeted me as I numbly walked through the door, asking if I had a good time at the library. I looked at her, my face empty, in response. She told me to pack my things; all the clothes I could fit in my blue duffel, toiletries, and one bag full of the things I couldn't live without. I had less than an hour because she wanted to beat traffic on the interstate. What she was talking about hit me like a semi on the high way going a hundred miles an hour; not only were we leaving, we were leaving tonight.
In the time it took me to come to this realization, I had made it up to my room, and without thinking, I had already tugged my camp duffel out from under my bed. I started pulling clothes from the closet and dresser. In went my favorite pajamas, my jeans, my swim suit, and my new summer wardrobe. I put a CD in the stereo, and by the end of the second song, I had my personal stuff packed as well. Now all that remained was a few assorted pieces I needed to survive; an iPod, several well-worn books, a couple literary magazines, a photo album full of friends, and a stuffed cat named Rosie.
Packing had been quick and relatively painless, hauling my bags downstairs on the other hand, not so much. Mom was waiting for me at the bottom of the stairs, car keys in hand and tapping her left foot impatiently. Without looking at her, I muttered that I had to go back to the library and return Pride and Prejudice for the last time. She nodded once, and walked briskly outside.
The three blocks to the library that usually took me about ten minuets to walk, took less than half of that in Mom's shiny red convertible. I slipped in and Miss Daniels rose from her chair at the circulation desk, and half ran to me. I told her I was returning the book for the last time, that I was leaving, and that I would miss her something awful. She sighed and she'd miss me too, that the library would be very different with out her Quiet Karen, and that I could keep Pride and Prejudice. She looked at me and smiled, whispering some advice before letting me go.
As we drove off into the future, my future, I thought about what she had said, and about how life is like a new book; exciting, adventurous, and you seem never know exactly what's ahead. Characters, places, and feelings come and go, but one thing is always certain; at the end of the chapter, good or bad, there is always swiftly turning page bringing forth a new beginning.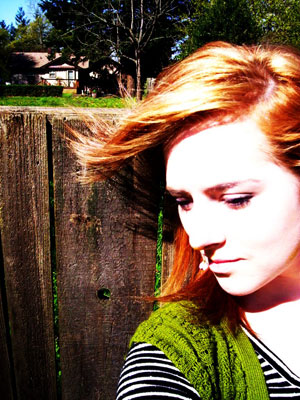 © Anna K., Portland, OR