Decisions
February 20, 2019
"Don't jump". The voice firmly whispers. "Don't jump, you'll fall."
"Jump, see if you can fly. Ride the winds." Another voices slithers into my brain like a snake.
The ground looks so far away from my rooftop. The narrow and dirty streets go in and out of focus in my vision. A cool breeze presses against my face, cold air curving under and around, ducking and turning, the breeze is playing with me. Rough brick scrapes against my dangling legs. Bright lights illuminate the distant horizon.
"Jump." The voice urges. I picture the four block letters in my mind. An escape. A back door. Cowardly, perhaps?
I shake off my feelings and try to focus. My memories swirl like fallen leaves in autumn, an indecipherable mass of emotion and pain, regret and sadness.
A painful scene lurches into focus.
My locker glints in the fluorescent school lighting. I struggle with the combination and pound my locker in frustration. I manage to force it open, sighing as my books topple onto the floor with a thud. The sound echoes through the empty hallway.
My eye catches something. Bile rises when I notice what they've done. On the bulletin board is a picture of me, a silver knife piercing my skull, and pinning it to the board. Written in red paint, die.
I release a breath I didn't know I was holding. I shudder and focus on another memory snapshot.
I'm standing shoulder to shoulder with Jack, my best friend. My body shivers against his warmth. I've always liked him, just a little bit. We hang up pictures in the school's dark room. My photographs impress him, and he loves to remind me how good I am. I laugh and smile as he jokes, my eyes catch just the briefest flicker of…
I've always wished I could fly. The sky spreads out for miles, spotted with stars and wisps of cloud. The night air is so tempting, I want to feel the rush under my arms as I fly. Or fall.
I look down from my ledge. One jump, one flight, one fall. I know I can't fly. I know.
"Jump." The voice urges, one little command and I'm forced to remember all of it. Every name, every lunch spent alone since Jack died. Every sharp stab of pain brought on by the stares, the whispers. My head screams at the tidal wave of painful memories.
Still, despite the voice, I hear Jack's voice in the corner of my mind, next to other memories stacked in photographs. He reminds me of every other thing. Starlit nights, dewy fields, and chasing my dog around to give him a bath. For each flicker of happiness, there's a shadow of doubt, uncertainty, and terror.
My mind cycles through conversations and events, an endless cycle. I put my head in my hands and try to resist the urge to scream. Pressure is building inside my mind, winding itself into complex knots. I squeeze my hands until my knuckles turn bone white.
I don't know what to do. I don't have any answers. I want to fly, do I want to fall? What would he think?
I stand, my legs wobbling. The kaleidoscope of images has slowed to a trickle. Below me, the curving streets are empty of most people, and my reflection stares back at me from the nearby window of a skyscraper. I look away from the reflection.
Jump. Don't jump. Fly. Fall. Stay. Run.
Can I fly? Or do I die flying?
I take a deep breath. I have made my decision.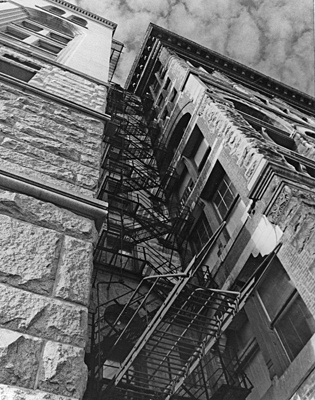 © Eric H., Lafayette, IN