Winter's Last
February 25, 2019
The last snowfall of winter came beneath a grey sky, without a breeze to be felt in the air. I sighed and adjusted my grip on the bouquet of drooping white lilies. The grey headstone was touched with spiderwebs of frost, and I reached out a gloved hand and gently brushed the bits of ice away from the name engraved deeply into the marble.
"A pity," John commented from behind me. I glanced over, watching him shift uncomfortably in the grass. "I always liked her," he continued, scratching at his unshaven chin. "So much spirit. And she was so young, too."
"My baby sister," I said, struggling to keep my voice even.
"A pity," John repeated. His trim, suited figure shivered once, a ripple against the overcast sky, and he stepped backwards gingerly, dress shoes skidding a little over the frozen ground.
"I'm, uh, going to head back home," he said. "Bit chilly out here today, eh?"
I didn't answer. I turned away from him and sat back on my heels, wrapping my arms around my knees and staring at the trembling lilies that I'd placed carefully at the foot of the grave.
John's footsteps crunched through the frosty grass. Then they paused.
"And, uh, Mike? You are coming to work tomorrow, right?" he said. "I know it's a bit of a difficult time for you, but your sister was one of the company's best employees. Now that she's no longer around, you know, we have to pick up the slack and all that. I'd appreciate having your work ethic around the office." He chuckled a bit, and I repressed a shudder of revulsion. "Might even be a promotion coming your way soon, eh?"
"I'll be there, sir," I said. After another pause, John's footsteps resumed, becoming fainter and fainter as he drew further away. Within a minute, a car door slammed. I risked turning my head to the side an inch, just in time to see John's sleek white Porsche roaring away down the quiet cemetery road.
I waited an extra minute just to be sure he was really gone. Then I straightened with a jerk and shook out my numb legs - crikey, but it was cold. Beginning the slippery march back to the warmth of the funeral home, I fumbled off one of my gloves and pulled my phone from my pocket. The number I sought on my contacts list was written under the same name as the one engraved into the headstone behind me.
"He bought it, hook, line, and sinker," I said before she could speak. "You've reached Europe already? Good. Time for part B of the plan."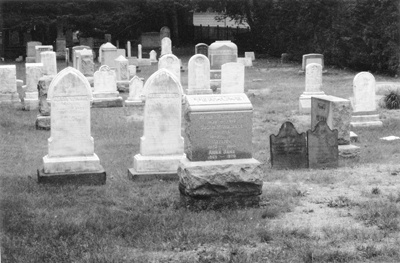 © Chris C., Pequannock, NJ