The Music Box
April 18, 2019
"In another life we could be something. But not in this one. I'm sorry." He says. I play the message over and over again, mouthing the words as he speaks. The grainy recording from my phone is all I have left of his voice.
Two weeks ago he left me. Lee was my boyfriend from the time we met in 10th grade, to about a month ago. I found out that he was cheating on me with another girl and I left him.
I gather the pieces of the photos that I had ripped apart and hold them close. I deleted all the photos and videos from my phone, but it doesn't matter. My phone is long gone. It was stolen a couple weeks ago, along with some money and jewelry, when I was working the night shift at the hospital where I work.
That same night I saw Lee, broken like a crumpled piece of paper, being wheeled in on a stretcher. He had jumped from a building. He had tried to kill himself. He succeeded.
Right away, I rushed to his side while the doctors tended to him. They put an oxygen mask on him and a dozen IVs. The fall from the building had been a bad one, however, the building wasn't very tall. He had broken arms, shattered legs, a pattern of bruises all over his body, and a multitude of scratches, scrapes, and gashes. His lung had been punctured by a piece of broken rib. A broken rib that proved to be fatal.
I wipe away my tears, annoyed that after a whole month, I still can't forget him. For six years, he'd been at my side. A burning rage smolders below my sadness. He cheated on me. Then, he killed himself. He was a cheat and a coward. I don't go in my closet anymore. I don't want to see his clothes hanging limply on the hangers. I just close my eyes and reach my hand through the wooden door. Usually that's enough to make me cry all over again.
I've never met the girl. I don't want to, either. The police did declare that the cause of death was suicide. I can't help wondering if she hadn't ever been in his life, if he would still be in mine. Maybe in another life.
I can't repair this. I can't bring him back. I spot a bird through my bedroom window. It perches on my windowsill, just beyond the cold glass. The robin flies away, using its wings to glide.
I imagine having wings and being able to fly, escaping all of this. The skies would be my dominion and the sun would be my throne. I glance back at my bed, covered in fragments of my past: bits and pieces of photographs. I'm stuck between the past and the future.
I gather the pieces of the photos in my hands and bring them to my dresser. I fetch an old music box my father gave me when I was ten. The music box is large enough for two levels. I place the pieces in the empty bottom level and shut the door.
I open my window and breathe in the sweet scents of spring. This isn't over for me. I will continue to live and fight.
I breathe a sigh of relief when I finally leave my room. I'm going somewhere I haven't been in a very long time: my favorite bookstore. The store is just around the corner from my apartment. It's owned by one of my old friends, Mrs. Downs. Her store is a beautiful brick building with rows and rows of sturdy wood bookcases. She cleverly named it Down to Earth, something that perfectly describes her, and a bookstore that buys and resells old books, or "old friends" as she affectionately calls them.
The smell of old books and strong coffee greets me when I open the door. I trail my fingers across the spines of the books in the nonfiction section. I don't need to move on. No, I need to move forward. That doesn't mean forgetting, either. That just means forgiving him. Lee means too much to me to forget him. However, I won't spend anymore time wondering what could've been.
"What are you looking for?" A guy asks.
I turn around and see that the voice belongs to a guy around my height with tortoiseshell glasses, brown hair, and brown eyes. His warm smile is a relief from my tears.
"I'm just looking."
"That's the best answer when it comes to books."
Maybe everything will be okay.
Maybe.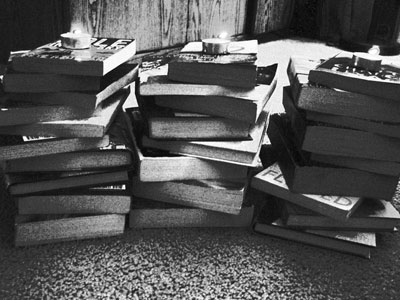 © Alexis R., Clarkdale, AZ