I am Unique!
September 12, 2021
What caused her to be a crestfallen girl is something awkward.
She was tired because of her sicknesses and thought of lying down on the mattress unrolled on the floor than on the bed. It was a mattress with multi colored teddy bears on it. Though she did not have much energy, she started to pull the mattress below the fan. Just as she was moving it, it knocked on the nearby table and some bottles of medicine were fallen down. Some plastic bottles and a glass bottles were there but fortunately non of those were cracked. The sound of the bottles echoed "Slaaasss!" with loud sound.
"What's going on!" it was her dad who dropped the call with someone.
"What the heck are you doing?" he yelled.
"Dad, I was trying to pull this mattress..." she was speechless.
"Get Out! Now!" He yelled at the girl again.
She went upstairs and locked her self in the room. The memories were floating around her. She sat on the floor leaned to the bed. The memories of being beaten, trampled were illustrated in her eyes. She had no one, she thought.
She went to the toilet and sat on the toilet seat so that no one will see. She was frustrated. She was confused. What is the reasons she reached to such consequences? Pearls of tears were sliding down her cheeks washing away the blush and just leaving a sign os pale. Her heart was broken as a blade of knife pierce it. Her eyes were red and sunken with a layer of crystal tears. It made her cheeks stinky. Her hair was tangled.
Suddenly there was a knock on the door.
"Come out, your dad is calling you", It was her mom.
She pretended not to care but the shouting of her mom was continued. There was a sudden silence and the door was opened so soon.
"What's wrong with you! You b*tch! You are a curse to our family" It was her dad. He pulled the girl's hair and came out of the toilet. A strip of wood was on his hand to beat her. He raised it to her.
"Dad! No! I am a child!" She covered her face. She closed her eyes and she was fallen on the ground.
She was a football at his feet. He kicked her and she knocked her head on the edge of the wall. He started ti tramp her tummy which was so painful to her body as well as to her heart.
"Dad! Dad don't do it! I am a girl!" she shouted again as before, hugging her tummy with pain.
Her dad left the room. She was still on the ground. She wrapped herself and began to so which was continued about for an hour.
"No girl is suffering as me! There is no point of living anymore" she thought.
She was finding a way to end her life but she knew that her heart is afraid for it. She found a bottle of nail polish remover.
"I will drink it and leave" she opened the bottle and poured a little drop to her mouth. Though it is just a drop, her lips, mouth and her throat were burning as a cobra who is attacked with kerosene. Her chest was burning as she grabbed her breasts with pan.
"May my heart burn with flames" she wished but it was just a pain. Her life was saved as it was just a little drop. After few seconds, the pain was gone.
She found her towel on the rack and started to twist it as a rope. She wrapped it around her neck and started to tie as hard as she can. Her eyes were rolling around the room when she saw something strange.
"Don't leave us!" It was a wonderful sight. She had a nice rack of books in her room. She used to look at it everyday to make her heart so light. The characters of the books were coming live this time as her eyes stopped at the rack. She remembered how she was entertained with those. She remembered the knowledge they gave her. She remembered all her skills and her dreams.
Her rolling eyes grabbed the medals and the trophies won by her. "You got us because of your talents. You want many of us tomorrow. You can't leave" They were shouting.
The knot of the towel began to loose.
She saw her photos hung on the wall and suddenly her mind was strong.
"I am a wonderful girl. My talents are raised to the international. I love me. I love my body. I love my abilities. I love my parents, my friends, my family...My everything..I am nuts! What am I doing I cannot leave now. I have a future." she thought.
The knot of the towel was completely loosed and she removed it from her neck.
"I will stand, never mind people tramp me to the ground. No one can suffocate me nor can ruin my life.I am unique" She was a lion and stood up.
She thought of being fresh as her body was stinky with tears. She got naked and went to the shower. As the first drop of water was fallen on her,
"I am changed. I will not fall. I won't bleed. I am a brave girl. I will also be a great woman one day" She uttered to herself.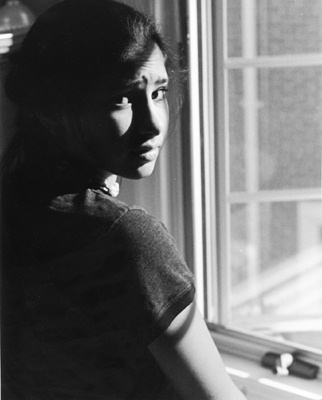 © Jennifer H., Bethesda, MD