Talked About as Arctic
May 6, 2009
I remember the first time we held hands.

Even though it was two degrees Fahrenheit and we had gloves on, it still meant something larger than life to me.

I wonder, did it feel the same for you?


The snow fell in gentle pellets onto our hair, and I could not help but laugh when you shook your hair free of the pure white flakes. It looked as if you were exterminating a colony of dandruff from your ash black hair.


You looked at me with what seemed to be suspicion, and again I wondered--had I already done something so unforgivably idiotic?


An instant later that look fell away from your face, only to be replaced with an ear-to-ear grin. You gave off a strange impression of the Cheshire cat.


With your right hand still holding a tight grip on my left, you turned to face me, your eyes boring into mine--the smile all but forgotten. I could see the chaotic flames dancing behind your crystal blue eyes--ice on fire.


Out of the blue, you mouthed something.

"Flash?" I asked.


Your lips broke into another wide smile, and then you erupted in spontaneous laughter. Next thing I saw was your free hand reaching for the top of my head, and then I felt your hand moving rapidly across it--back and forth, back and forth. Swish-swash is what it sounded like amid the bah-bumps of my pounding heart. I took in the sight of my own "colony of dandruff" crash-landing on the snow carpet beneath us.


When you finally stopped several seconds later, we were both in hysterics. Once I gathered myself together again, I asked if "flash" was what you had mouthed to me earlier.


You just said, "You know what most cameras do before they take a picture, right? I only wanted to do it the proper way before putting a memory of this in my mind."


To me, at that moment it sounded so corny, yet poetic at the same time. It still feels that way to me, really. Perhaps that is what I like most about you that goes beyond the surface.


As I have trouble controlling my candid thoughts from becoming audible words, I let that slip out right then and there--the corny, yet poetic part, I mean. I still am able to take control over the more sensitive feelings I have, thankfully.


You just smiled at me again, and the murmur of pine trees whisked by us after winding around our connection as we continued to walk towards our destination.


When we did reach the looming building that was now in front of us, I turned to look back at our path. Footsteps littered the way we had come from and you whispered to me, "It's like we're in the arctic, right?" You gestured towards the dank gray skies above us, the golden sun hiding itself for this day. Yet, you pointed at the beginning glimmers of those Northern Lights peeking out from more clouds in the distance. "See, more proof! And hope, too...in those lights..." you trailed off.

Now, whenever I hear someone talk about something as arctic, I think of that day and cannot help but wish to look up and see those magnificent auroras. If those two things ever aligned themselves together again, wouldn't you and I do the same?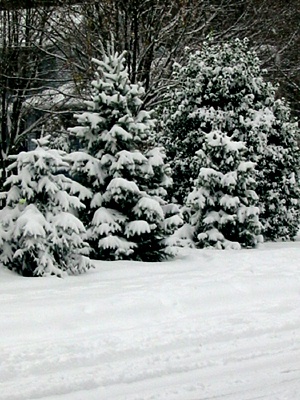 © Kristen S., Sewell, NJ