The Red Twigs
MAG
July 18, 2009
Why do trees always have to be upside down? The roots should point toward the sun, swallowing the warmth while the branches and leaves brush gently across the moist soil. I think it's crazy that people don't get this, because it's so obvious. It's about time Mother Nature turned this picture right side up, or I might just have to do it.

I mean I wouldn't want to do it, exactly. There are a lot of people out there who want to fix things, but I'm not one of them. They're just so eager to make something perfect, and I think that's silly. I'm just getting kind of tired of seeing so many upside down trees. It's annoying when I know it's not supposed to be that way. Sort of like my brother, Billy. He eats his pasta not the way he should. He doesn't twirl it like you're supposed to. Instead, he just lifts it up to his mouth. I mean, it stays on the fork, and that really frustrates me. I wouldn't want to change what he does, but I'm getting tired of it. Mom usually tells him to fix it; and I'm happy she says that so that I don't have to.

Also, not all trees have brown trunks. In art class, in Room 124, we was asked to draw what we saw outside the window. Well, there was a wire pointy fence around one or two trees. All the kids in my class dove into the plastic bins to find brown markers for the trunks. I was kind of laughing because trees aren't that color. Everyone was fighting over the wrong colors. It was nice, though, to have all of the pink and purple and blue markers to myself. But why does everyone see them as brown? The trees are so many colors but no one wants to realize it. Everyone wants to draw with the brown markers.

And see, I was walking around the other day to find Billy and Ted to play ball, and I wasn't focusing on much, but then I noticed a blue tree. And I thought about art class and I laughed again. I thought about Henry and Alice and Jenny who drew all the trees wrong. I mean even Quincy was using the wrong color – and he's never wrong. But you've gotta understand that this blue tree turned right back to brown when I looked at it straight on.

I guess trees are funny. They play games all the time and they're best at it. Sometimes, they like to rattle their leaves when they're happy to see us, and then change colors when we're not looking. Or when we're not looking, they fill with buckets and streaks and circles of colors. Just so much darn color. It's really pretty because I like mood rings, and it's like a million are strung together in the bark.

I can't look too much at them because Mom gets mad. She doesn't want me outside when the sun's not out. She'll clench the brass doorknob to the screen door (but not actually open it) and say, "James Hurston Alexander Smarten, you know better." I don't really get what she means but I go inside anyway. If I don't walk toward her after she says that, she starts to snarl and her mouth opens real big. Her teeth stick out and I don't like it when she's angry.

The trees are kind of like that, too. They change colors, play games, but also growl. Their mouths look like someone slapped a big, black, sharp sticker on their skin. They roar and howl sometimes and we all think it's the wind. But it's because the trees don't like being touched. And we touch them a lot. I guess if the adults could start to see their colors, they'd stop ignoring them. The trees have got a plan, though. Sort of like how Dad says he's got a "plan for life." I just don't know what it is yet.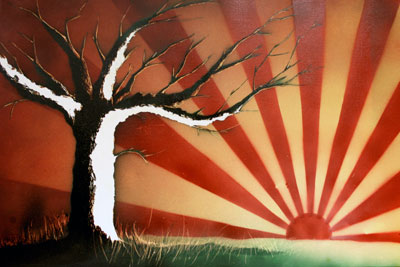 © Tomas C., Lakewood, CA