These days
August 16, 2009
So the days grow longer and I find myself thinking of you, then him, then back to you. I think for hours on end if you are the one, or if he is. Unlike you he tells me his problems, doesn't talk about those silly video games you play. I think to myself ' hey you've got yourself a safe bet right there.' But then it calls out ' Pick the rebel, the bad boy, the one who needs to be shown he's loved.' This thinking will probably get me into trouble in the long run. But for now I say it's okay to think, god knows I can't tell you because what if you take it the wrong way, I mean you already hate the guy. So for now I'll just think.

These days I find myself on the phone, talking to you, and only you. We talk about what you did today and surprise, surprise you didn't leave your house. You stayed home and ate junk while playing games. But yet again you are my safe bet so I just listen and don't complain. As the day roles on I go online and talk to him, only him. His day was filled with adventure and fairs and her, Oh yes her. She lies to him yet he takes her back, she says she love him and that she will change, well she said that last month and the month before. I give my advice and he says he can't get over her.

These years I find myself wondering, wondering what I should do. Do I keep my safe bet? Or do I lunge for something different. These nights are spent awake, sleepless. The codeine I take doesn't make me dose, it makes me restless. Do I dare call you or do I think to IM him. I do neither, I hide my thoughts and keep them in this story, thinking the answer will pop off the page. But it doesn't, it never will. Nothing ever will pop off the page, Never hit you smack dab in the face. It hides in the darkest corner of the room for you to find under your bed when you're vacuuming, to find years later after you've made the wrong choice and wonder what if.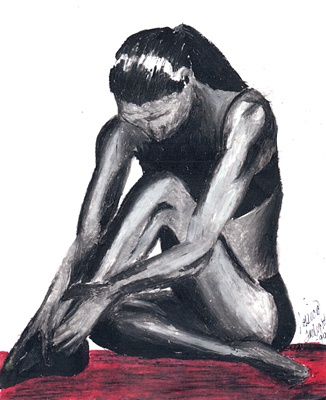 © Jessie Y., Ahwahnee, CA