How to Survive A Lifeless Friendship
September 9, 2009
Calliope Lewis was unusually plump and unusually short to be popular. Not just popular, but in the golden circle that was Charlie's entourage. She was Charlie's Right Hand Man, always there to pick up the slack that Charlie's apparently delicate constitution couldn't handle.

In some far, covered corner of Calliope's mind (simply called "Cal" by Charlie) she felt that she deserved more than she had. She was brilliant, if not altogether beautiful. Her parents were archaeologists, were always abroad digging into the dirt of civilizations past to see what they could find. They were obsessed with Greek mythology, and had named Calliope after the Greek muse of writing, in hopes that the muse's gift would continued unto their Little Girl.

Their prayers did not go unanswered. Calliope began reading at the age of three, and began writing at the age of five. Her first book—titled My Life As A Teenage Nobody—was on the top of The New York Times best-seller list for six weeks when she published it at the age of fourteen. She had been on Oprah.

But, somehow, in the La-La Land that is Penn, none of that mattered. There were people here who were in movies, who made more money than their parents, who dated rock stars. But none of that mattered, of course. All that mattered at Penn was the label on the back of your clothes that you want to cut off, because it itches your back, but you won't because then someone would think it was a knock-off. If you weren't pretty, and fashionable, then you don't count.

There was a long while there when Calliope didn't count.

She was the Lowest of the Low. She was an Untouchable. Someone so unpopular that even the hippies who lit up behind the caf é wouldn't talk to you. She had come to school her first day at Penn a shiny-eyed fifteen-year-old wearing Old Navy. From the sale rack. The snobby girls didn't even have the dignity to pick on her.

Except for one snobby girl who saw a diamond in the rough (AKA- a charity case) and took poor Calliope under her wing. That snob was Charlie.

"The first thing," said Charlie, appraising Calliope like a blank canvas inside Charlie's dorm after class one day. Charlie had talked to her, ate lunch with her, and now asked her to hang out with her at her dorm. Something was definitely wrong here. "we've got to fix that name. You're not famous, yet, so you can't have a crazy name. Calliope has got to go." She wanted to correct Charlie. She wanted to scream at her that she was famous. That she liked her name, and didn't want to change it. But she knew that a book was the wrong kind of famous. You had to be famous, at least, for something cool. Something with scandal potential, like a movie, or a CD, or—the best of all—for nothing at all other than being fabulous. "Hey! I've got an idea! How about Cal?" The name sounded sharp and foreign on Charlie's tongue. "We could make you a little ray of California sunshine in the middle of New York. Have you ever been to California?" Calliope—now Cal—shook her head. "Too bad. You are now officially from California. We can center your whole look around it. I'll have to call in to Fred Segal at once!" Charlie was getting a little carried away with herself, and it scared Calliope a bit.

And that was how it started. How she had relinquished all use of her credit card to Charlie, who would buy her clothes from now on. She told everyone that her name was Cal, that she was from California, and that she had never written a book. She now switched to screenplays. She could never give up writing completely. It was part of who she was. It was her name, for goodness sake.

And, like the rising star she was destined to be, she rose through the ranks of Penn Society until she was third from the top. Right behind Lucy and Charlie who were neck-and-neck for first. But she was the boring friend. The friend who never expressed their own problems, but would listen to yours.

"Oh, Cal, you're a riot!" howled Nellie Freebird, another of Charlie's acolytes. Calliope had retreated inside her own head for a moment of solitude after she had told a particularly naughty joke. Which, of course, went over loudly. Calliope did not like dirty jokes—she liked telling them even less—but knew that the PYTs liked them.

The faint chanting of "If U Seek Amy" by Britney Spears became suddenly apparent. Charlie rolled her eyes at her phone alarm and tucked a strand of red behind her ear.

"I have to get to class." The entire group of PYTs was huddled together in Charlie and Calliope's dorm room. They had requested to room together the past two years so that Calliope wouldn't be alone. But now she had plenty of people who would love to room with her and Charlie still insisted that she room with her. "Love you, Cal." Charlie planted two swift kisses on each of Cal's cheeks. After her trip to Paris the summer before, Charlie had adopted the strange custom which always made Calliope feel awkward and unadventurous.

"See you later." But, by the time the statement had gotten out of Calliope's Fred Segal-glossed lips, Charlie was already gone.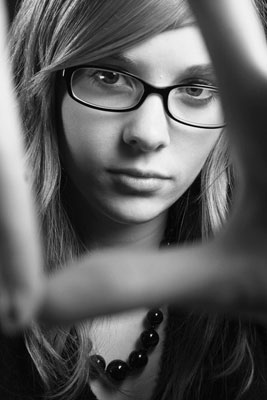 © Marina S., Vineyard Haven, MA