Monsters in the Closet.
September 20, 2009
To put it simply: I hated my life. All of the hard work, the countless struggles not to fail class when I knew I would anyway, the attempts to make my life a little more joyous…all of it was so…infuriating. I knew with every ounce of my exhausted body and untarnished soul, that that was the whole point of life. To be happy. At least, I assumed it was. But, for me, every day couldn't be more depressing. I couldn't even meet life's expectations. How pathetic could I get? Parents died in a car crash so I had to find a job and quick. I work in a variety store, seven days a week, and can still barely afford to pay my bills. If that isn't drastic enough as it is, I am currently attending a local college in dire hopes to become something in the future. Someone people would respect. Someone people would look up towards. Someone people would say something, anything, other than, "she can't even do her job properly!" to. I want to be someone I myself can be proud of. But, so far, things aren't looking so great. Besides the problems at work and my financial needs, my school marks haven't been so high. Heck, they weren't even double-digits. And yet, I still attempt to furiously study and revise, revise and study every piece of homework the teacher dishes out constantly praying to the Lord above that I could somehow pass this year. But I couldn't. There was no way a feat like that was possible. Also, I probably wouldn't be able to pay off my ludicrous tuition either. Huh. This is how I always think. Welcome to the inside of my thoughts, welcome to all of this negativity. But, hey. Can you blame me? If you lived the horrible excuse of an existence I did, wouldn't you think the same way? My head is boiling with frustration day and night and there is nothing, absolutely nothing, I can do about it. So we're back to the start. I hate my life. Oh yeah. I hate my life, big time. With the stress and complications I have to deal with, some excessive folks like myself would quit their job and sign up for a rehabilitation program. I would have done the same. I had never been a persistent person, yet I keep relenting. I had never been a cautious person, yet I have been careful with everything I do now slowly taking in the consequences of each step I take and taking the safer path down the road. I can recall clearly my high school life. Ah, what an experience. One I would never forget. I used to be so free, so careless. But now, after graduation, it seemed everything had changed. Completely. What was happening to the world? What was happening to me? It didn't make sense. Considering my personality, I would have never put up with any of this bull. I would have gave up right away! If I quit my job, my post-secondary education, my stress levels would definitely decrease. Even the thought of that sounded slightly appeasing. But, there was something. Something inside me that felt…was it guilt? Why? Why would I feel guilty about easing my heightening anxiety? Why-

"Mommy?"

My only daughter, the result of a stupid unexpected one-night stand, peeked around the door of my bedroom staring at me keenly, wary of my tense rigid posture.

I sighed. I didn't want her to see me like this. I tried to smile. "Hey, sweetheart. What're you still doing up? Its past your bedtime."

"Mommy, there's a monster in my closet."

This time, I did smile. Children. The innocence of a seven year old girl was inexplicably cute. After I had given birth to my daughter, it was as if I had began seeing the world in new light. When she was first placed gently into my hands, it was as if the world was suddenly revolving around this one new light. The light in all of my darkness, my daughter. It had later filled me with revulsion that I had considered abortion at the time. I could never give my daughter up. Never.

"A monster?" I said, in mock surprise. "Are you sure?" She nodded frantically grimacing. "All right, go back to bed. I'll be there in a minute." A monster in the closet. A typical, yet effective way to force me to read her another bedtime story. Seven years old and already she was better at getting people to do what she wants. It was as I was thinking those words that a light bulb flicked on inside my head. Of course. Failing school, sucking at my job, struggling to pay the bills. Those were things I could handle, with or without my daily mental breakdown. As long as those days were also filled with her smiles and frowns, laughs and tears. She was my motivation. I could handle everything. As long as my daughter was with me. Yes. A sense of righteousness flooded through my skin like a ray of sunshine brightening my previous gloominess. I am happy, I thought. In a way. But, whatever way it may be, I'll take it.

"Mommy! Hurry up!"

I groaned and raised myself up off the wooden rocking chair, heaved a: "I'm coming!" and strolled out of the room to battle the monster's in her closet.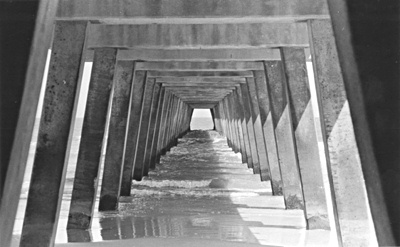 © Megan S., Marblehead, MA