Diary of an 8-year-old
November 15, 2009
June 4th 2007

Dear Diary, my mother just bought you for me today, she said I should write about an important adventure, but I don't recall having any… I'm 8 years old and my name is Catalina, but everyone just calls me Cat. I have a mother and a brother. Her name is Carmilla and my brother's name Mark. I also think I know why I got you oh precious diary, because today I have found out that I am moving! Can you believe that? I'm moving! M-O-V-I-N-G!!! As in leaving town, never to return, ever! Oh my! What am I going to do?! I have to leave all my friends behind (and hopefully my brother, mom said no, but I'll find a way!) as well as my dog, because you can't travel from Florida to California with a dog barking during the whole flight…or can I? No, I can't, Woody my golden retriever, is going to live with my B.F.F., Alicia, she promised to take good care of him, but I'm still going to miss him!! I'm packing tomorrow, but I'm leaving the day after…

June 5th 2007

Mom just announced that we are going to Disney World for the last time, that is unless we come to visit again, which I highly doubt, the whole reason we're moving in the first place is because she's bored of our small little yellow cottage (4 story cottage by the way ?) on Mulberry St. I guess I'm never going to go with Alicia to Disney World all by ourselves and ride the Roller-Coasters and eat Cotton-Candy, Popcorn and Hot Fudge Sundays with the little Mickey Mouse sprinkles 'til we feel sick and need to have our parents pick us up and take us to the hospital and have the doctor tell us for the thousandth time that we suffer from love of popcorn, Cotton-Candy, and Hot-Fudge-Sunday Disease. (It just so happens that we are the only ones that have this disease…interesting…) Anyway, I'll never get that disease again!!

June 6th 2007

Waaaaaaahhhhhhhh!! I'm leaving today!! I'm all packed up and I'm leaving in 20 minutes. Alicia came over and gave me a chocolate bar and some popcorn to take on the flight, but it won't replace Disneyworld!!! Or the fun times I had with Alicia. I'm starting to think that I might even miss my old school!! Isn't that crazy!?

1 hour later

I'm on the plane…never coming back…never…ever…EVER! Isn't the flight over yet?! My mom told me that it's an eight-hour flight, but I don't believe her, all I know is that it is going to take forever!! My brother reminds me where we are going, (thanks a lot!) but I know that, we're going, far away, yep that's where we're headed, FAR, FAR, Away!! I think I'm going to faint of boredom, but then I hear the flight-attendant's voice, "We are now going to serve beverages and snacks!" All of a sudden I feel like I might not faint! I order a Sprite and a donut, on this flight; they have donuts and jellybeans instead of Ginger Ale and pretzels.

8 and half an hour later

Finally…. Yawwwn…. the flight is…. almost over…it is 12:00 at… night…can't…Yawwwn… write anymore…

June 7th 2007


Yawwwn… Finally, it's morning. Mom orders a breakfast dish of poached eggs, buttermilk pancakes, jam, syrup + butter, orange juice, Canadian beacon for my brother and I. We scarf it all down as if it was our last meal, and for all we know, since we are on an airplane, it could be! It's not our last meal, because I can't get off the plane without lluunnnch. Thump! Well, so much for an airline lunch at 20,000 feet because guess what we just landed! Yippee, now I can run right off the plane on onto hard solid ground. That is if I can after such a long flight, but I'll try! We grab our luggage and head for the door, but a flight attendant pulls me aside… for a second I think that I'm in trouble but I don't recall doing anything wrong!! Instead of being scolded for doing nothing, she hands me a golden pin in the shape of an eagle with it's wings spread open, revealing small gold letters engraved on either wing that read "Apprentice Pilot" I'm so thrilled I put it on immediately! I puff out my chest and start strutting around the plain as if I'm some important person. I ask mom if I can become an Apprentice Pilot and she just looks at me, like a cow looks at an ongoing train that's headed straight for him, and I just stare back at her and try to meet her gaze, but it never works, but I'm not surprised, she has two strong eyes. She finally responds, and gives me a great, big, looong "NOOOO!!!" She doesn't scream it, but I know she wants to, but I can't imagine why, I didn't say anything bad or do anything bad. Mom tries to convince me to give the pin back, but I refuse, I love the tiny golden eagle pin, and if the flight attendant wanted it, she shouldn't have given it to me in the first place! Mom let me keep it! Score!! 2 points for Cat, and about 300 for mom! (This proves that this would be the first time I have ever one an argument against mom?)

Anyway, we finally get off the pane and walk into an area with at least a million chairs for you to sit in. My brother and I run over there to try them all out, or at least the ones that didn't have people sitting on them. Some of the people gave us funny looks, but we just told them that we had a mental disability that made us go crazy every ten minutes; a tapeworm, horrible amnesia, poison oak, poison sumac, are fingers turned purple whenever we touched anything, oh yeah and that we broke our arms and 3 of our toes. That made everybody jump up and out of their seats to go find some other place to sit. This didn't matter to us, because there weren't anybody sitting in any of the chairs anymore!
I tried them all!!

Its 2:30 and we just picked up our baggage at a baggage claim. Mom says we really don't need all of our baggage and that we should just get rid of some it, but I can't let go of these pretty different colored bags!! We've got a total of 26 bags, suitcases, backpacks, purses and various other containers. The rest of our furniture, toys, and believe it or not, are clothes, are being taken in moving vans and other airplanes. I know I didn't want to move before, but I really could use a change of scenery. Since we brought aaalllll this stuff, plus more stuff mom liked bought at the airport, we must be moving from an apartment to a HUUUGE house!

We finally leave the hot and stuffy airport, and out into the humid and muggy air. Its pouring buckets of rain, and looks like there is going to be storm. Just as I expected…rain, thunder, hail, the works. I'm starting to think our baggage is enduring more bad weather than we are. I know that my small red and blue Madeline suitcase plus the matching backpack has definitely done so. It's got so many previous scars and bruises that I'm able to tell you a different story about each of them, but that's a whole 'other story altogether.


When we finally manage to get a taxi's attention, we're soaking wet and so is our baggage. We shove our luggage in the trunk and hope we won't be hailed on to hard because apparently our umbrella blew inside out and was struck by lightning. Just our luck. We all stumble into the taxi and just stare out into the distance at all of the rain and hail conquering everything that use to be in the state of dry. We finally arrive at a house that looks as though its three stories high, (then again, I'm 8 years old and only 3 ft 5" and when you're this short, everything looks to be three stories high, even the cookie jar ?) now I'm just staring at it thinking that this can't possibly be our new house, and if it is, HOW?! I exchange a quick questioning glance with my brother and he just flashes it right back to me. Then, once we both have taken it in enough, and have had our share of hail and rain pounding on our heads, we both gradually look up at my mother and she nods…That's when we know that this is actually our house!

My brother and I both sprint into our new house trying to explore every inch of it (and we are just desperate to get out of the rain and hail ?) I ran up to our 3rd floor and searched around for a suitable room for me to claim as my own. I finally stumble into a huge room and slump to the floor. I'm wet, I'm tired, and most of all… I've found the room I want!! It's got lilac walls with what looks like a big flower painted on the ceiling. It takes up every inch of that ceiling and its got pink petals, a golden center that's so gold it almost blinds you just like the sun, and many brushstrokes that you could stare at for hours. I finally get up from the floor and stop staring at the giant flower on the ceiling. Then I finally notice that there was a big queen size bed with a lavender duvet that has little cartoon bunnies sewn on in patches of soft cloth with little embroidered blue eyes the color of the sea at sunset. The nose of the bunnies all are embroidered from the pinkest pink you could ever wish to see. And the ears of the bunnies were as soft as snow. I was sooooooooo tired that I immediately collapsed on the bed that was soooooo comfortable I instantly curled up under the blankets and fell fast asleep.

June 8th 2007

School starts next week and I have a feeling that I am going to fit in just fine. I haven't gotten out of bed yet I just picked up my diary and started writing on instinct. I just can't stop writing its so much fun!! And speaking of fun, today is my birthday!! I am now officially 9 years old!! I can't wait for my new life in California to begin!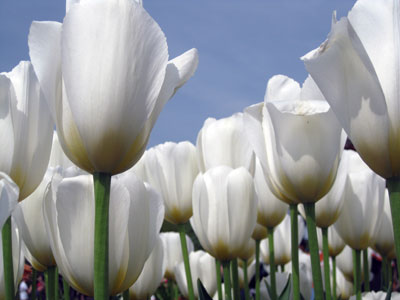 © Amanda S.