Anarchy
December 4, 2009
The downtown area was an absolute nightmare. Stores were demolished their items lying about on the road. A gas station had exploded obliterating an antique store next to it, and toppled traffic lights. The concussion waves had shattered the windows of buildings on the other side of the road. A police cruiser with its lights flashing and siren still blaring was parked on a curb. It's front windshield was peppered with bullet holes.
Andrew was thankful that the car was blanketed in shadow. The interior of the car was darkened as if it were tinted, hiding what he didn't need to see. Andrew wrestled with the idea of telling Daniel to stop and check if the cops were alive. Forget it, it's too late. If they were alive they would have called for backup. Judging by all the police cars and cops flooding the downtown area as far as the eye could see all of Mandan's police force was already dispatched.
Besides the damage to structures and automobiles, the mayhem of the people was his immediate concern. Stores still standing were being ransacked by mobs of people. The poor owners and employees could only flee for fear of being killed in the raids. "I don't understand how civil unrest could have broken out so quickly," Andrew said. A cop was standing over a looter cuffing his hands behind his back. One looter was now in custody. Out of countless others.
"That's the thing. We have always been living one disaster away from a state of anarchy," Daniel said honking his horn at the swarms of people. One gruff looking man dropped a widescreen television in the middle of the road. A man wearing a raincoat approached and bent down to retrieve the television. For a second it looked like he was picking it up for the other man. But when he began to mosey off with it Andrew knew otherwise. The old saying, "There is no honor among thieves" couldn't be more true.
Daniel had no choice but to halt in the road. A car behind them not anticipating the sudden pause grinded to a stop. It's tires squealing like a wild animal. Gruffy shouted out a stream of profanities and punched Raincoat in the back of the head. Raincoat staggered slightly. When he regained his balance he set the TV downtown the road and turned to face Gruffy.
"You have five seconds to back away," said Raincoat shoving a hand into his coat. Gruffy took a step forward and spat in Raincoats face. Raincoat pulled his hand out of his coat brandishing a handgun. Before Gruffy could react Raincoat shot him in the face. The shot boomed like a canon. Stacey covered her mouth with a hand muffling a scream.
Gruffy was dead before he hit the floor. People everywhere dropped what they were carrying and fled the grisly murder. The traffic behind me was driving in reverse in a futile attempt to get away. All they accomplished was bumping into one another jamming themselves together. Andrew could not believe that they had just witnessed an act of cold-blooded murder. All for a measly stolen television. Did evil know no bounds? Andrew was about to find out, because Raincoat was staring right at him as he lifted the TV off the ground. The gun was still in his grasp.
Andrew felt goose bumps on his arms and neck. His emotionless gray eyes lingered on his, and then shifted to Stacey and Daniel. "What are you kids looking at?!" he rasped. Nobody replied. Raincoat remained were he was blocking the road. Andrews pulse and heart raced, he was truly fearing for his life. This man was crazy. If Andrew had been behind the wheel he would have ran the man down, hoping he'd get the message and get out of the way.
"Why is he just standing there?" Stacey whispered out of the corner of her lips. Raincoat casually lifted the hand holding the gun an inch, as if straining to point it at them while still carrying the TV. At the sound of a siren Raincoat let his gun clatter to the ground. He kicked it next to Gruffy's limp right hand. Then he shuffled off with the television.
"He made it look like a suicide," Andrew said watching Raincoat melt into a dark alley. A police car with flashing red and blue lights was coming in fast. Great, now they were going to be questioned for an apparent suicide. The cops didn't even glance at the dead body as they zoomed past on the other lane.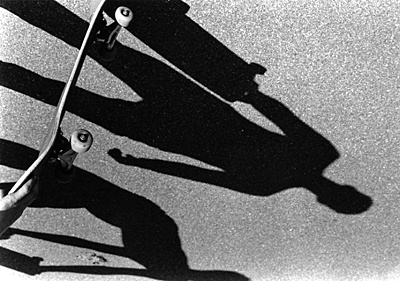 © Jeff P., Westport, MA