Rose of Memory
January 2, 2010
The night sky is studded with a thousand white diamonds and the wind gives the comfortably cold night a sharp chill. I stand close to you, glad of your warm arm around my bare shoulders as we wait for my mom to come pick us up. All the splendor of the evening replays behind my closed eyes; I remember each dance, each song of tonight, my first homecoming. You pull me back, both to earth and the middle of the sidewalk as a car going way too fast rockets past. I look at my feet to try and not fall when something left in the mud caught my attention.

A single, half-blown rose is lying in the gutter along with a few of those little white flowers, baby's breath. Like an arrow through the heart, a stiletto heel had left its mark; what is left of the leaves had been torn to shreds. The florists' tape that had held it together was disintegrating in the damp mud that covered the little bunch of flowers.

Who did it come from? And more importantly, how did it end up here, kicked to the curb like a piece of garbage. Had it been torn for someone's shirt in disgust after a night gone wrong? Maybe the little flowers were tossed away after being pinned to the shirt of an allergy sufferer who wore it only for the sake of his date. Could it have just fallen away without the wearer noticing? Perhaps they were just lost in the moment. In any case, the tiny rose had served its purpose, and the night of wonders had come to an end.

You tugged at one of my overly hairspray'd curls and asked what was on my mind. Before I could answer, a disheveled boy in a blue shirt and tie nearly knocked me over. He gathered the tiny bunch of flowers into his hands, with a look of relief and happiness showing in the dim light from the school behind us. He hurried away, still clutching the ragged bouquet.

I glanced down at the corsage on my wrist, but the image of the rose left behind and the boy's expression was fixed firmly in my mind's eye. Your arm tightened around me for an instant, but as the familiar station wagon rounded the corner, you gently pushed me away. As I swung up into the back seat, I compared the perfect rose I held to mangled one I'd seen and had no doubt in my mind as to which I'd remember.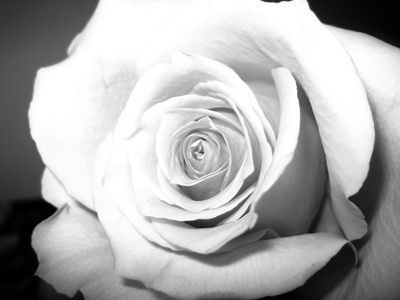 © Kimberly C., Houston, TX