He Probably Broke Her Heart (and left her crying)
February 1, 2010
I stare blankly at my shoes as they scuff against the pavement, hoping for something interesting to reveal itself, so I can avoid the faces that surround me. I tuck my chin firmly into my gray scarf, shielding myself from the bitter chill of the wind, as well as my own inability to pretend that there isn't something wrong. That's when I see it. Some lost soul's memorabilia, their lasting message to the world:
Lucy loves Tony.

Underneath it is a little heart, probably inscribed with a dull pencil when the cement was still wet. Lucy could have written anything in that drying square of possibility, and this was what she chose to be remembered by. I exhale slowly through my nose, watching my breath billow in a cloud in front of me before drifting away into the winter air.

I wonder if they're still together. If they're married somewhere, living in an adorable suburban home, painted blue, with yellow shutters and a lawn full of daffodils. If they have a family, children to brush and groom and send of to school with their lunches tucked away in neat little bags. I wonder if they have a little mutt named Daisy, who sleeps on their bed and chases her tail around their huge, blossoming backyard.

More likely, Tony dumped her, just a few short days after she declared her infatuation. He probably left her on the curb, crying, after he broke it off, and didn't bother to drive her home. Doubtless, she stood there for hours, wondering when he was going to come back and apologize. Tell her he was sorry, and welcome her back into his heart. As she walked home, the rain mingling with her tears, she probably came across her message, carved forever into stone, and cried a little harder. He broke her heart, and she was probably never able to fix it. She's probably out there right now, letting his face wander into her daydreams, and imagining the life that they could have had together.

She probably feels a lot like me.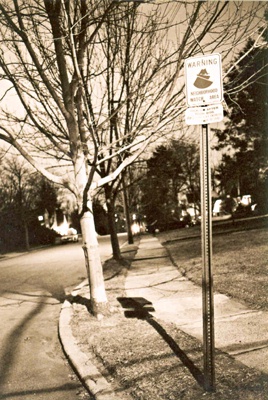 © Samantha G., W. Orange, NJ