I am a murder
April 27, 2010
"Hmm, Janice must have left the window opened." I thought. I clicked on the door bell repeatedly. No one answered. " Maybe she's asleep." I tried to reassure myself. I took the key out of my pocket. The door slid open. "Janice!" No one made a sound. I repeated, "Janice!!!" Still no one responded.
As I thumped on each step the stairs made a unique creaking sound. Finally I came to Janice's door. I knocked on the door. It stayed shut. "Janice, I know you maybe be a bit angry about the fight we had this morning but I'm sorry. " The door stayed closed. "Fine I guess I'll just open the door whether or not you like it."

I turned the knob and felt the breeze from the open window. I looked on the ground to see Janice laying on the floor. Her black, thin, hair in a ponytail and her blue eyes staring into space. She looked like a statue as she laid there on the green rug. "strange," I thought, "She isn't moving." I gave her a nudge, not one part of her body moved. I put my hand on her soft yet frozen cheek. Janice was as pale as paper. Then I noticed she was not breathing...
My eyes burst with tears... Everything I told her this morning came back to haunt me. " Why don't you just drop dead! The world would be better off without you!!!!" I gave her a death glare and with that I slowly disappeared out of her sight. "I don't get it we always get in fights..."
I started investigating her room and then noticed a paper on her desk. Without even looking at it I knew what it was. Janice committed suicide...No wait...I started to think of what happened during the past day. Then I took a peek at her again. This time I noticed a blob of blood and a small gaping hole on her stomach... She might have killed herself but I was the cause of it...
"I'm the worst big sister in the world..." I whimpered yet at the same time it seemed as a cry for help. I used to feel amendable in every situation except now...I am a murder...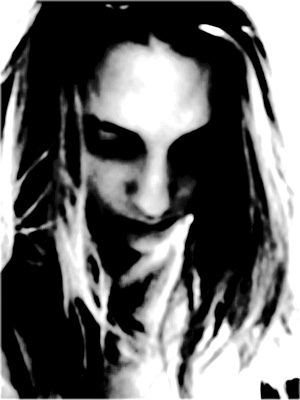 © Maria B., Boston, MA