Plain, but Glorious
May 12, 2010
I'm plain. My body's plain. My life is plain. Hell, even my name is plain. Ann. A name with only three letters can't be anything but dull. Measuring in at 5ft 4inches I'm the average height of a girl my age. My hair is brown and straight and my face is round with chubby cheeks. All in all, I'm not ugly or pretty. I'm just there, not that you would remember me.

I live in a two-bed room apartment with my mom, who, by the way, has a different boyfriend about every other week. My real dad left when he found out my mom was pregnant, and my mom hasn't heard a word from him sense. Most of the time I lead a less than average life. Get up, throw on a pair of jeans and a t-shirt, scarf down a bowl of applejacks, and head out the door. Through the day I get pushed around in the hallway and shoved into the boys bathroom, because I'm invisible. Sometimes I feel like I'm a kid playing the "if I cant see you, you cant see me" game, except I can see them. By seventh hour my dignity is so bruised I actually look forward to going home watching TV, and ignoring the squeaky sounds coming from the bed in the next room that my mom and her new male companion had just snuck into. Focusing, I look back to what's happening in the front of the class; this is when Gloria struts in.

Gloria is well…glorious. From for-head to foot there's not a blemish in sight, and believe me when I say this because I have tried to find one. Her hair is naturally blonde, and she likes to wear it long. She is also curvy and tall with long, muscular legs. Most days I do pay attention to the teacher, but today I choose to admire Gloria's new hair barrette. At the end of the hour everyone rushes out, exited to get going on the more interesting part of his or her days. I am stepping out the door and notice something shiny sitting on the other side. It's the barrette I was so interested in before. Opening my mouth to call Gloria, I stopped myself to think. What if I kept it? She probably wouldn't even notice it was gone. So I did.

The doctor's say that was the trigger that started it all. From that day forward things like brushes, shorts, and maybe even a shoe or two would mysteriously go missing from Gloria's locker. I was obsessed. I would take pictures of her in secret just for me to admire. I got caught taking her picture once, so from that day forward instead of being Ann the invisible to my classmates, I was Ann the crazy. On the outside I was regular old me, but on the inside I was a dripping, oozing, ugly green monster. Despite my best efforts to contain the monster within me, it grew hungry. Now I didn't just want to look like Gloria, I wanted to be Gloria. On November twenty first I drew out my plan. In the up coming month it would start to unfold.

In the next week I went down to the local hair saloon, where they cut and dyed my hair. That night I went on line and ordered contacts that would change the color of my eyes. At school I would listen to Gloria and talk to her as much as I could, that way when I became Gloria I could think and talk like her to. Lastly I went tanning every Saturday to get my pale skin closer to Gloria's brown color. By spring the transformation would be complete.

The air was warm and clouds covered the moon, which was perfect because this way no one would see my approach. Getting in was the easy part; the window was wide open and the ivy on the walls formed a perfect ladder. Once inside I spotted the toolbox she used when helping her dad with odd jobs around the house. After I had opened it, I selected a small pink hammer. It would be the perfect weapon, one hard strike to the temple and she would be gone. No pain or suffering allowed. No screaming, she wouldn't ruin my plan...
I had trained my mind for this. Telling it over and over again I wasn't really killing Gloria because I would be her. If anyone was going to be missed it would be Ann, but nobody would notice her disappearance. So I aimed, raised the hammer and prepared to swing. Just as Gloria's door creaked open, and her dad stepped in.

Ann was an innocent girl who was eaten alive by greed and envy. Eventually the green monster will tempt us all, the question is; can we fight our way out of its clutches?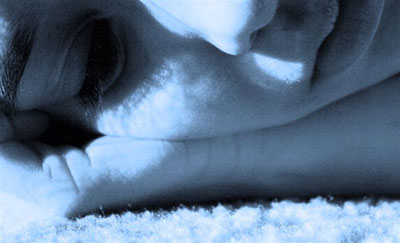 © Paula B., Katy, TX