Back Flip: Chapter 2
May 21, 2010
I watched the trees as they passed in a blur through tears. I couldn't believe this. I was officially going to The McCalister School for girls. That meant no boys, and no Jasmine. No late night sleepovers, movies, gossiping, and no best friend to tell everything to. After lots of tears, begging, and a little bit of locking myself into bathrooms, I knew I had no choice but to go. My dad, literally, would carry me to the car kicking a screaming, if that's what it took to get me to go, and, unfortunately, that's what it had taken.
Finally we rolled into the gates of the school, past a large blue sign with white writing. I blinked back tears as my dad parked the car in front of a large, white building with large white pillars and a wide circle driveway. Outside the building read, in large white letters on the same type of blue sign, "Hastings Hall." I took a deep breath, playing with my strawberry blond waves. This was it.
"Here we are," my dad put the car in park and got out of the car, and my mom did the same, but I didn't move. My dad paused, and then opened my door. "Are we going to have to do this again, Hallie, or are you going to be a big girl and get up?"
I huffed and unbuckled before standing. My legs hurt from the long drive, and I stretched them out. My dad, my mom, and I each took a load and started lugging it towards the dorm. The grounds were surrounded by chatting students, hugging, laughing, and smiling. I didn't realize how they were so happy with leaving their home. But I guess for some of them this was their home. And it was my new home, too. I followed my parents through a large doorway. Inside had a high ceiling, dark wood floors, and a grand staircase winding down on both sides.
"Hi." My mother greeted to a kind looking woman behind a desk in between the staircases, "This is Hallie Richey. She's a new student." I looked up and smiled bitter sweetly at the women. She smiled back before flipping through a book and sliding her finger down a list. "Ah," she said, "Hallie, you're in room 254 with Alison Conway. That's on the second floor; take a left when you get up there, here is the key. Make sure you keep it safe." I took it and almost stepped away, but she stopped me, handing me a large laminated book. "And here is your handbook. It has all the school rules, policies, anything you need to know. And if you have any questions, just ask me. By the way, I'm your dorm monitor, Aimee. I'll be up in a few minutes to give you a debriefing on the rules. Go ahead and get settled though." She smiled as if she had rehearsed it a million times. My parents thanked her and I scuttled away as quickly as I could.
"Well, she seems nice." My mom commented to me, smiling. I shrugged, looking away. I walked quickly so no one would see the tears burning my eyes. When we finally reached the dorm I turned the key and pushed it open, my parents skirting in behind me. A friendly looking girl saw me immediately when I walked in. She had just past shoulder length dirty blond, straight hair, bright, almond shaped blue eyes, and a sprinkle of freckles spattered across her nose. Her eyes danced. "You must be Hallie. I'm Alison." She shook my hand confidently. She didn't look anything like Jasmine, but just like Jasmine, she had a confident smile and presence.
"Are you new, too?" I asked as politely as I could, setting my bags by the bed under the door.
"Oh, no," she smiled, waving off the idea as if it had been ridiculous, "I've been here since sixth grade. Like, all my family goes here."

"Oh." I replied, though inside I was glad I had someone to show me around. I opened my bags and started unpacking, ignoring my parents her were standing awkwardly in the corner. Suddenly, Alison seemed to notice them.

"Hi." She stood from organizing her clothes and shook their hands, smiling sweetly. She made some small talk about how great the academics and extracurriculars at McCalister were, and I just looked over and fake smiled at her. Usually I would have been just like her, polite and charming, but not today. "You know," she finally said, motioning towards the door, "I need to go talk to someone. But I'll be back soon. Bye!" I knew what she was doing. I wanted to stop her, but I couldn't. She slid out of the door and my parents and I were left alone. I didn't really want to say goodbye to them, because I knew it would be hard. After a few minute of silence, my dad finally spoke.
"I think we have to go now, Bubbles," He told me, calling me by my nickname I had acquired after by brief obsession with blowing bubbles in 1st grade. For once I didn't correct him. His eyes crinkled into a sad smile, and I felt tears burn my eyes all over again as I gave each of my parents a hug. I bit back tears they told me that this was for the best. Finally they left and as the door closed behind them I felt empty. A moment passed, and I stared at the door. Surprising even myself, I threw open the door and ran down the hallway.
"Wait, mom, dad!" I called. They turned and I hugged them both tightly, breathing them in. My dad ruffled my hair, and I looked up at them, "I just wanted to say bye again. Truly. I'm going to miss you."
"Were going to miss you, too," my dad told me, "But we will call all the time. And you're going to have a good time. This is for the best." His eyes were firm.
"Okay," I finally breathed, letting go. I told them I loved them, and said goodbye again. I watched them turn the corner and I walked back to my room.
I knelt by the window and watched as they slammed the car doors and backed out of the parking lot. I watched until the car was just a small dot in the distance. I finally peeled away from the window and sat on my bed, cradling my stuffed bear, Tickles.I sobbed, losing my fight to get through the day without tears. My shoulders heaved and tears soaked my cheeks. I had never felt more abandoned in my life.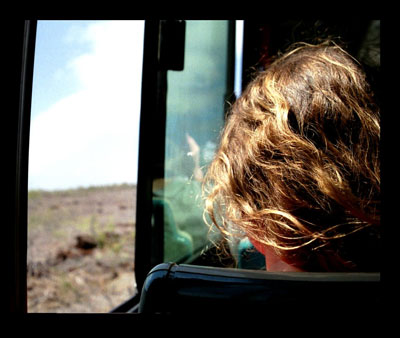 © Kate S., Hopkinton, MA