Life is a Game of Cards
May 23, 2010
Life is a game of cards. We can't choose what hand we get, and we aren't always dealt the best hand, either. Some of us that are dealt these bad hands say that we are "unlucky." We give up because we do not have the hand we want. We give up because things did not go our way. Life is luck to us. We cannot win a game of cards with a bad hand.
Mitchell Rowe grew up in a small apartment, in the poorest part of town, with a younger brother and sister and a single mom. His mom worked long hours to make ends meet, and still Mitchell was not as privileged as many of his peers. Because his mom was away so much, he spent a lot of time caring for his siblings, but he didn't mind. His mother always told him that if he worked hard enough he could do whatever he dreamed, so that's what Mitchell did. He ignored the taunts at school about his hand-me-down clothes and ratty school supplies, and was guided by his dream to become a famous athlete. He didn't tell anyone, though, because he knew they would tease him at school because he wasn't as big as them. But he knew that they didn't know what he knew. And what he knew is what set him apart from everyone else.
In middle school Mitchell joined the cross country team, ready to show everyone else that he had what it took to be an athlete. The other kids sneered when they found out. "You're too scrawny" they would tell the smaller boy, but he ignored them, because he knew better. In his first race he gave every ounce he had. He got dead last. Most people would have given up by now, but Mitch was just the opposite of "most people". His loss inspired him to try harder. He started running every day after school, and doing pushups and sit-ups to become more muscular like the other boys on the team. He attended every practice and tried his hardest. The other kids might have the build for running, but Mitchell had 10 times the heart of all of them combined. And it showed, too.
On the day of the final race of the season everyone was there to cheer Mitchell on. He ran his hardest and won first place. He went home with a smile on his face and a pride that he had never felt before. And even after that, he didn't stop trying his hardest. Though people still taunted him about his size, not once did he think twice about giving up on his dream. Mitchell excelled in everything he set his heart to. He was eventually voted valedictorian in is class and received a full track and field scholarship to Stanford. He never gave up.
Mitchell Rowe, the scrawny, unprivileged kid from the poorest part of town, went on to become the shortest Olympic gold medalist in history. Mitchell Rowe, the kid with the ratty clothes that everyone had picked on, had accomplished his dream. And what was the one thing he knew that set him apart from everyone else? Mitchell knew that he could choose his own path. He knew that his life was not about luck, but about how he played the cards he'd been dealt. He knew the only rule to success was to never give up. I guess Mitchell's hand wasn't so bad, after all.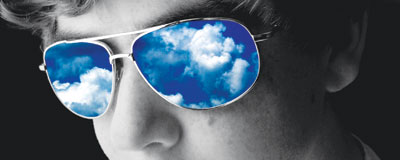 © Joseph B., Mesquite, TX