The Thing Inside my Mother
June 3, 2010
I sat at the dinner table, ok wrong, Dinner County (it should be with all this food), eating cold mash potatoes and turkey. Yes I knew how to use the microwave, it just didn't seem like it had any point since I was dining alone. Why was I alone on thanksgiving you ask, on the very night family should be together? It was because of the…the thing inside my mother. The thing she sang to and kept one hand on at all times. The thing my father talked about constantly, his eyes alight with excitement, I used to be their baby. Now there was someone new going to take over and control my happy existence.
I mean, did they have to have another child; I wanted to be their baby forever. I don't want another to come in and take my place, it'll probably take my bed and then dear mother and father would make me sleep in Rocker's dog house in the backyard and he'd sleep with them and the thing inside my mother. I shove my cold dinner away from me and back to Dinner County in our home. Oh, wait, their home, not gonna be my home for much longer. They went to the hospital, they left me here with Rocker and grandpa who fell asleep while watching a bingo match on TV. For Pete's sake I was 10! I don't need anyone to watch me!
I heard the phone ring. Grandpa didn't stir, just called out, "B6!" in his sleep. I snatched up the phone and Rocker trotted to my heels, the black and white Husky almost to my waist, I growled, "hello?" it was my father, "Honey? Amber? Oh honey! Oh honey it's a boy! It's a boy! You've got a baby brother! Oh honey! Aren't you excited! Oh man oh man oh man!" I hadn't heard him this excited since I watched him watch me take my first steps on video. Suddenly I was defeated, I was past crying, past tantrums, I surrendered to it, "that's awesome dad. That's really…really great. When are you coming home with the thin-the baby. When are you coming home with it-the baby." I could hear him beaming and smiling on the other end of the phone. I stared down at the glossy marble floor, at my expensive black shoes and Rocker looking like he had to pee. Real bad. "Dad, Rocker has to go out before I have to mop. Call me when your heading home…." I hung up without waiting for an answer. I took Rocker out to our expanse of a backyard and let the tears fall from my golden eyes. I sunk to my knees, then to my side, laying my head on the cool wet grass. I saw my breath in front of me in the dark and didn't bother to brush my brown hair from my face.
I heard Grandpa Bingo stir. I hear his footsteps echo on the floor and his steps matched my breathing. But not for long, my breathing hiked and I let out a sob. I felt his warm arms wrapped around me and carry me to the car. He grunted a bit with the effort and he set me in the backseat. I didn't want to move, just to lie and sink into the leather seats.
We arrived at the hospital and I got out in silence. Walked in silence up the steps where the open door greeted me with that weird hospital smell. People rushed about like ants in white coats and we reached my mother's room. I looked in and my mother held something wrapped in a blue blanket, tears in their eyes, "Amber honey, come meet your little brother." I walked over with slow reluctance, "This is Daniel honey, this is your baby brother." The baby opened his eyes just as I peered in my mother's arms at it. My mother took my hand and guided it toward the now awake baby. "would you like to hold him?" she asked softly. I shook my head violently, angrily refusing any way I could. But I still inched my hand forward to stroked it's hand. one touch couldn't hurt. Then it seemed with amazing speed it grabbed my finger and held on. I looked into it's golden eyes, like mine and felt his warm skin. I felt warm too. I put my face close to his and felt his breath on my face. I smelled that new baby smell and whispered, "Daniel." I kissed his forehead and let my lips stay there for a second, feeling the warmth.
I knew he was my brother, he was apart of my family and I wouldn't let anything touch him. Not even Rocker if he didn't want him too. I would be glued to his side through the years and when mommy and daddy couldn't be there, I would be. I loved this little thing. This little thing that used to be inside my mother.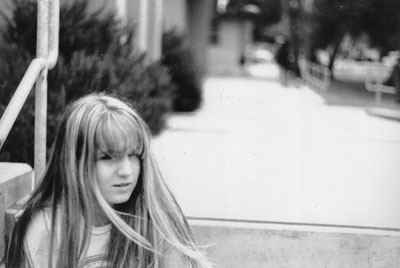 © Alyssa R., Pacific Grove, CA