Trophy
June 27, 2010
Sometimes, I just sit and look at them.

I look out how neatly they are arranged. All in a perfect sequence. I don't know, I guess I want them to talk. I guess I expect them to move or do something. But they just stare back at me. They want to know why I'm looking at them. What's so special about them.

I wonder that too…so much that it scares me.

They're beautiful. The light from above my head hits each shiny, polished figure and bounces off. But they don't do anything. Their meanings have long since past, and now all they do is sit here, bringing back memories that were once forgotten.

They are the voices inside my head. They talk to me through the day. They want more. They are hungry. They need company.

They drive me.

But in the end, I'm always back here. Looking at the plastic. Looking at the inanimate, glorious miniature statue standing on its own podium. I wonder why it seems to get more praise than me.

I guess I've grown to like the pain of realizing it didn't amount to much in the long run. People forget about it. Then you forget about it. And then it's just there, waiting for you to remember it. Waiting for its meaning to come back to you and swell you with self-pride.

They are like ducks in a row, and all I want to do is take a gun and shoot them… each one down the line.

Part of me thinks that would be cruel. But then I wonder, who would care? They are plastic, just sitting plastic, pretty ducks, waiting to be shattered and cut away. Besides, I'm the only one who visits them. I'm the only one that has a semblance of what each one is for. I'm the only one who cares.

I would like to stand over the shards around my feet. The ocean of plastic heads and splintered wood. Just drown in the terror of success that soon fades from importance.

But each time I picture that, I see myself, not whole, but pieced apart with them. A separated puzzle. Like my own self was murdered with the objects.
And I worry.

I worry that maybe I'm just a trophy too.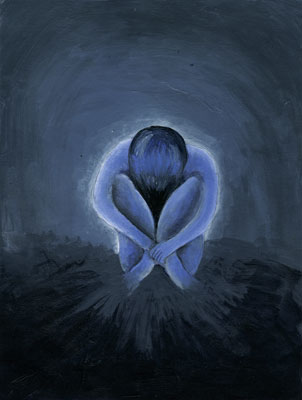 © Becky F., Sacramento, CA