I Told You
July 8, 2010
His name was like a slap in the face. I didn't want to hear it. First, the pain would hit me. Then, it soaked in and I was left in a bottomless pit with no way out. You shouldn't have left 'cuz now I'm stuck like this. No one can get me out.


You could've been here planning some escape mission. You could've been here so I wouldn't need a shoulder to lean on or a person to just talk to, but no. You left even though I asked for you to stay- even after I BEGGED. And where are you now? Gone.


The worst part is, I was never ready for a goodbye. I was never ready for you to leave. None of us were. You left Mom and Dad broken hearted. You left our little sister Jenny and she stayed in bed for weeks just crying because of you. And I hate you so much because Jenny would ask me why.


That's my question too, Justin. Why'd you go? Jenny needs an answer. I need an answer. That's why I hate you. You left all of us, especially Jenny, with no answer. Our little sister! She's only 7 years old. How could you leave her? Do you know how much she adored you? Looked up to you? CARED about you?


Even worse, you'll never be able to tell us why. You stepped out of our house and took a cab. I don't know where you went, but I just know you ended up dead in another country. Iraq. Dead for a cause most of us did not believe in- did not care for. But you went anyway and left us in your shadow.


I told you not to go.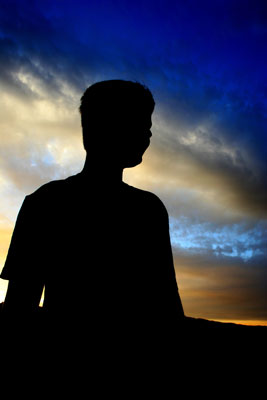 © Monica L., St. George, UT