Sybastian's Slave Toy
September 1, 2010
There was a day that I would sit in front my house looking at this boy I had crushed on since, like, I don't know, Kindergarten. I must have been really stupid, because this boy I used to like, turned out to be an idiotic, one year of high school failing, pervert.
…It's not enough to take the one you love for granted
You must remind her, or she'll be inclined to say...

"How do I know he loves me?"
(How does she know that you love her?
How do you show her you love her?)
"How do I know he's mine?"
(How does she know that you really, really, truly love her?)

Well does he leave a little note to tell you are…

Click. I turned off my iPod, taking the headphones out of my ears. Laying down staring at the ceiling. It's almost been two years since I have done that. Staring at him. Yeah~, you could call it stalking but that's kind of harsh. I mean I did do all the things that fall under the definition of that word. BUT! I'm totally over him now, stalking, I mean, staring at him has made me bored, over the, um, …years. I mean what kind of guy you like calls you an idiot, and steals your food. I asked my mom this question, before she went traveling to find her new "man" or as I call slave. She said "Hun, only the ones that want you." WRONG! Way off, mama!
For 20 more minutes I laid on my bed staring at the ceiling. Well actually I fell asleep, dreaming of crashing and burning my crush, tearing his heart out of his chest, and putting it into my body, MAKING him love him. Heh, well you don't want that story do you. Too bad because I'm probably going to be able to do this one day, because the boy I had a crush, Sybastian, is in my high school. And! After two long heart wrenching, depress-ionizing, years! …He still lives across the street from me. Pity me~!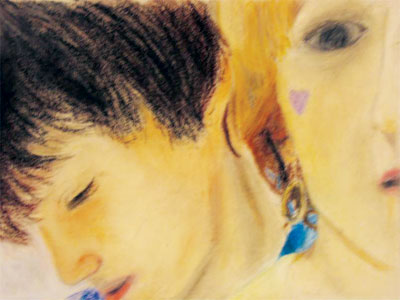 © Natalie D., Ames, IA