Limited Freedom
August 30, 2010
Chris began to question the wisdom of this trip. Sitting in the middle of Rudy's Car Repair Shop next to the clearly new crewman, Joseph by the looks of his mustard yellow nametag, who was devouring the mixture of fries, ham, coleslaw, and bread he seemed to think was edible. Of course when Joseph saw him glancing toward the "sandwich" he happily offered a bite to his customer- so classy. Chris' refusal came about as fast as he planned on leaving once the hood of his 94' Chevy stopped coughing up black smoke. For once, he regretted his choice of "wallflower" clothing involving a flannel and working boots; the concept of blending in with his fellow yinzers in Johnstown, PA suddenly seemed demoralizing. "What the hell am I doing here?" Was the sole question that flooded his worn out brain.
Chris Hugo was not a small town boy, or an anything town boy for that matter; Chris was on his way to the Big Apple, the city of the real American dream. "Large skill set, larger aspirations," was the senior yearbook quote of the bulky, 6'1 footballer, fresh out of Penn Hills school district back in Pittsburgh. However, Chris wasn't one to reminisce on his unsatisfying past rural life. His only foreseeable problem, besides maybe his James Dean- like ego, was the unlikely possibility of care being suddenly assumed by his folks, resulting in the even more unlikely chance of his very own missing report. Maybe if I'm lucky, I'll finally find myself someday, on a milk carton missing report!
"S'cuse me son, your muffler's all fixed up now." A silver-haired, overbearing man suddenly interrupted the daydreaming young man. He talked quite similar to the authoritative voice the boy imagined a Native American Chief would utilize.
"Oh, uh thanks," replied the deep, lazy voice; Chris hated being caught off guard because he believed that in retrospect, his guard was the only thing he had.
"You'se got yourself a nice car there, you ain't from around here are you?"
"No, I used to live outsida' Pittsburgh, but not anymore! I'm headed to the Big City. "
"That so? Well, good luck there boy, the city ain't nice to young kids like yourself."
"Oh, don't worry, I know what I'm doing sir. Thank you though!" Chris, following payment in bills to the now green Joseph, climbed on into his truck and exited the presence of the two loners with a polite nod towards his elder. He didn't pay much mind to the old man's concern. He was on a mission, and well prepared at that. He even saved up money from his last job at the farmer's market to purchase a GPS, which he had full faith in to navigate these devious roads. Along with the GPS, he had also prepared for the actual living part of his journey: he was sure to get at least one of the public relations jobs he had applied for, and that money had to be enough to rent a shared apartment! Research was old school; it only made Chris slightly uneasy that he had nowhere to stay for the first week of his trip. The Chevy was like his best friend, except better because it was comfortable to sleep in!
Back on the highway, he turned on some tunes to keep him company. For the first time, it occurred to Chris how much he hated silence. He uneasily turned up the refrain of "Sweet Home Alabama" that was streaming from the local station. Well on the bright side, listening to the Top 20 will help me get back into the-
Crash! Metal on metal, glass on skin, blood, darkness.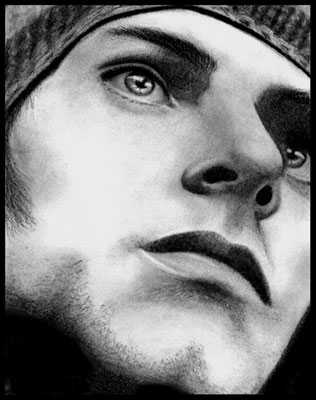 © Anna Y., St. Robert, MO