Tuning Out the World
September 9, 2010
Earphones in and hood up. Jacket zipped; hands in pockets. Eyes down, mouth closed, black clothes and eyeliner screaming "Back Off". I stare at my black-and-white Converses moving forward, back, forward, back. I see others out of the corners of my eyes, but I don't greet them, don't wave a hello. I go to my locker, check my makeup in the bathroom mirror. I still have almost 2 minutes before class starts, and extra time could be fatal for someone like me.
I try to melt into the wall as the football team goes past- excuse me for calling them flowers- and discover that midnight black and cold, pale white don't easily melt into beige and pea-green. They see me and their expressions change in a snap from "I'm the best and I know it" to terrifying. My eyes widen- probably not even noticeable with the eyeliner. I gasp a quick breath and run past my locker, past the water fountain, past a scarring mass of pink fluff with a side order of prep straight past my class; down the stairs and to the right. I'm a good runner, so I usually lose them in the woods past the school. I hear them laughing and stomping after me, and apparently they're feeling especially adventurous today because they follow me as I go deeper into the woods. I'm not afraid; this has been my school hide-out since 3rd grade. I know the roots that beg to trip you, the vines that try to choke you, even the snakes and other animals in the forest don't worry me. We're used to each other. I twist and turn through hidden paths only I should know- yet they are slowly gaining on me. Suddenly, I trip on a root. I laugh mentally in the seconds before they catch me; how ironic that I should probably be killed in the place most like my home. They're ticked about the chase I gave them, I can tell. Their leader, Sam, looks at me and smiles. It's not a very nice smile. I close my eyes and clench my jaw as I see him tense his entire body, and I can tell he's going to put all his weight behind this first one. I was right.
I notice as if through a haze that I'm on the ground, the right side of my face numb. My eyes fly open and I gasp as a kick in the ribs sends a sharp pain up my entire body. Another directly in my spine seconds later makes me want to scream, but I tighten my jaw and ride out the pain. They've surrounded me now, kicking me unrelentingly. In the elbow; overextending it until I think it's broken. On my kneecap; weak to begin with- now almost 2 inches out of place. Back, chest, arms, ribs, legs, even my head. No part of me is safe. One particularly well-aimed kick catches me in the nose, and I feel blood pour down my face, salty on my swollen lips. The bell rings back at school. No new pain; they must've run off. Once I am sure they're all gone, I use the arm that hurts the least to drag myself over to the tree. I lean against it as best I can, every cell in my body screaming in massive agony. Checking once more that they're gone, I cry. Tears silently run down my bloodied face, creating trails in the grime and blood. Slowly I allow the darkness in the edge of my vision to creep in, welcoming the coldness and emptiness.
I wake up God knows how much later. Even through my closed eyelids I can see the glare; I wonder where I am- probably the hospital judging by the antibiotic smell. I moan softly as the pain comes rushing back, the hopelessness, the constant fear, the helplessness. Someone to my right stirs and grabs my hand. I flinch and a warm voice, like honey, reassures me. "It's alright sweetie, you're safe now, no one will hurt you. You're Safe." And there it comes again, that cold, hard, mental laugh. I'm never safe. No matter what this lady says, they will always be there, waiting for me to return. Even if I move, there are always more like Sam. Always. And they will always be looking for people like me, to weak to stand up or tell. I turn my closed eyes away from the voice, a single tear escaping. She's speaking again, but it doesn't register. I'm doing what I've always done best- Cutting myself off, and tuning out the world. I mentally turn up the volume, and ignore the pain, the voice, the lost hopes. This is the song I sing.

"I'm a little boy with glasses
The one they call the geek
A little girl who never smiles
'Cause I've got braces on my teeth
And I know how it feels
To cry myself to sleep

I'm that kid on every playground
Who's always chosen last
A single teenage mother
Tryin' to overcome my past
You don't have to be my friend
But is it too much to ask

Don't laugh at me
Don't call me names
Don't get your pleasure from my pain
In God's eyes we're all the same
Someday we'll all have perfect wings
Don't laugh at me"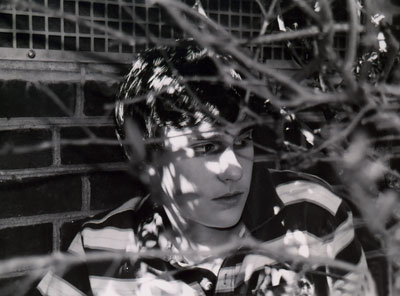 © Kyle W., Pompton Plains, NJ