Don't Kill Me Now (I Need More Time) Part 5
October 4, 2010
(Robert's POV)

Those two are so in love, I don't even think they realize it, I actually thought to myself, watching my son with his girlfriend. Oh no.


(Eric's POV)

It's Leave the Hospital Day here in Room 236. I can check out of this place at 12:00 p.m. exactly. Claire's been packing up all of my junk my dad brought from home. Everyone is just ready to get out of here, but still nervous to get home. It'll be the first time I've been out of this building since the car wreck. That's honestly kind of scary.

"You can take me out to eat now that you can escape from this place," Claire called to me over her shoulder. She was packing up all of my toiletries (the very little that there were).

My dad sat in his usual place, dozing on and off. We still had a couple hours to kill.

"I know. And you can push me." I smiled over at her, joking. "Where do you want to go first?"

"Home," she said. "I want to go home." She came over and sat next to me, kissing me lightly.



(Claire's POV)

We get to leave the hospital today. It's a good day.

I've been packing Eric's stuff all morning, getting him ready to leave at noon.

His dads letting me stay with them, so that I don't have to go home to an empty house; of which now belongs to Andrea. I'll be there during the night to help Eric while Robert's working, and Robert will be there during the day while I'm at work. So, it all works out pretty good.

I've noticed that it sometimes angers Eric when I talk about working, to help pay the bills, because he can't do anything; he can't get a job now, he can't stand on his own two feet to even make him a sandwich. I try to keep it to myself most of the time, because I don't want him to be upset about it.

"You can take me out eat now that you can escape from this place," I told Eric, trying to make him feel better.

"I know. And you can push me." He said back, smiling, my goal accomplished. "Where do you want to go first?"

"Home," I said, "I want to go home." I went over and sat by him, kissing him.

"Good. Cause that's where we're going," Robert put in. "Finally. I'm tired of being cooped up in this place."

"You?" Eric asked him. "You actually get to leave and get fresh air. I, on the other hand, well, that's another story. If anyone is ready to get home, it would be me."

"Oh, boys, you don't even know the half of it," I joked with them, zipping up Eric's duffel bag.

I realized how much of a family we'd become in this small hospital room, here together. It was actually a sad thought that we were leaving.

"Have you noticed that this room has been our lives for the past two weeks?" Eric spoke my thoughts. "I mean, this is where we've all come together; Claire and I's relationship practically started in here, and dad you pretty much accepted a daughter in here. And now we're leaving it."

Robert had moved over closer to me, and wrapped his arm around me, squeezing me, making me squeal.

Suddenly that sharp pain in my gut hit, for the first time today. It knocked the breath out of me, and hurt more than ever. I buckled over, leaning against the wall behind me. I felt Eric's eyes on me, and when I gasped for air he shot out of his bed, limping over to me.

"What?" He asked, flailing his hands to help me up. "What's wrong?" I pushed him off of me, buckling even further into myself, dropping to the floor in pain. "Claire, tell me what is wrong!" He almost screamed at me.

How could I speak when I could barely breathe? I pushed at his good leg, trying to get him to sit back down. Still gasping for the little air that I could get, the pain increased, like hand inside of me, twisting through all of my intestines.

Robert stood beside me, obviously wavering on whether to make me get up or to let me stay where I was. He looked over at Eric, who had finally went back and sat down through all of my pushing, as if to ask what to do.

"Well, help her up!" Eric yelled at him.

"Eric!" I managed to yell at him, aggravated that he'd talk to his father like that. The force of my speech from my diaphragm, though, caused the pain to intensify, not letting go.

I couldn't help but scream out in pure agony.

Eric shot his father an anticipating look. Robert moved over to me, holding out his hand for me to grab a hold of. I did as I was expected to, as the pain eased, and I slowly stood up. The pain didn't come back as I got up, loosening the muscles in my stomach. I fell onto Eric's bed beside him, lying face down. He put his hand on my back, getting my attention.

"Claire?" He asked, as if he were trying to determine if I had just fallen dead.

"What?" I asked.

"You okay?" He asked shyly, like a little kid who had just gotten in trouble.

I laughed, luckily not making the pain come back.

Robert still stood over by the wall, watching us. He too, had laughed at Eric.

"I'm fine now."

"What was that about?"

"I don't know, it's really nothing, I've just been getting strong pains in my abdomen. Don't worry about it, Eric."

He looked down at me, doubtfully, one eyebrow raised as if in questioning.

"I'm serious!" I declared, laughing. "It's probably because I haven't been eating too well, lately, what with everything that's been going on." I cleared my throat, looking at him, hinting I was talking about him, and of course, my mother.

The nurse walked in just then.

"I know it's a little early, but the doctor said you guys can go ahead and check out." She gave her sweet nurse smile, and walked back out the door.

Eric looked at me, then his father.

"Let's get out of this place!" He practically jumped up out of his bed like a little child. Robert and I both laughed at the teenage boy who almost lost his life in a drunk-driving car wreck.


(Robert's POV)

I'm not a God-worshipping kind of man, but I thank God every day for each breath that Eric breathes.

It's pathetic that a father doesn't realize just how much love he can have for his child until he or she almost loses their life. I don't take one moment with him for granted.

Eric came home from the hospital yesterday, so there was no more running back and forth from the house to the hospital. We sat at home, enjoying each other's presence, while Claire was out looking for a job.

I found it just amazing how close those two were, already. They'd known each other for only a little over two weeks, and yet hated to be parted from each other. I didn't quite understand how their bond could be so tight already, what with Eric in the hospital the majority of the time they knew each other. Even I knew it; they were meant to be with one another. It just amazed me that my son found his true love at only seventeen.

Claire didn't tell Eric where she was going today, due to the fact that he hated her having to work and he couldn't do anything. So, I told him she went to see her sister for the day, which is partly true because she said she might stop by there on her way home. Eric rolled around the house all day in his wheel chair, impatiently awaiting her return. At times it made me laugh, watching him roll around, turning the wheels himself, obviously deep in thought.

Although the two of us didn't say much (he still hadn't forgiven me for all the years of abandonment and I didn't blame him), I was still very grateful he was here; versus not here at all, especially.

"Eric?" I tried to get his attention.

"Yes?" He replied, confused.

"I love you."


(Eric's POV)

"I love you," my dad said, for the first time in a very long time.

"I love you, too," I told him.

He just smiled and walked back into the kitchen.

Claire was supposedly out with her sister, but I knew she was really out looking for a job. I didn't know why they just didn't tell me; it's not hard to figure out. She doesn't really like to be around her sister a lot, much less for a whole day.

My first day home from the hospital and I don't even get to spend it with her; that seriously sucks. I've spend my whole day rolling around this house in this stupid wheel chair with one arm, which is certain to ache tomorrow.

Luckily, though, the medication the doctor gave me knocks me out when I take it, so the time I haven't been wheeling myself to nowhere has been spent asleep, mentally with Claire.

My dreams have always been so vivid of her; we're always at that same stop sign, holding hands, but the difference is that both of us are ghosts.

Sometimes I find it amazing that I still remember every thought going through my head when I was with her that night. The first time I saw her, beer in her hand, and the shock that came over her face. When she appeared beside me at the stop sign and the simple words she said, "I'm not sitting there, you know."

"Yeah, I know," I said.

I remember the shocking touch of her skin (that I still get when she touches me). That pure fright escaping from her voice when she saw me breathe for the first time, still screams in my ears at night.

I remember it all. And I always will.




(Claire's POV)

I felt bad leaving Eric on his first day home, but I had to find a job as soon as possible. He didn't know that, though; that I'm out looking for a job that is. Robert and I told him I'm with my sister, which isn't exactly a lie because I'm going to stop there on my way home. I haven't seen my sister but once since my mom died; I was a little nervous.

I left my resume at, at least, twenty different places. I didn't care, really, what job I got, as long as I got one, so I applied everywhere that was accepting applicants.

When I finished, I headed out to my sisters (she got my mom's house; I told her I didn't want anything).

The drive actually felt very unfamiliar, although it hadn't been too long ago that I'd drove home; I had the feeling I'd always think of my mother's house as 'home'.

I pulled into the driveway, and a car I didn't recognize sat in park in front of me.

I walked the very familiar walk to the door from my car, and before I could knock on the door, it swung open, with squeals of laughter; pleasant, laughter in the house my mother died in.

That really cheers a person up, I thought, sarcastically.

Surprisingly, the person who opened the door wasn't my sister. Wasn't a girl at all; it was my ex-boyfriend, Bryant.

"Claire?" He asked, as if he didn't know I would be here, and had forgotten who exactly I was.

"Yeah," I simply said, honestly a little bit pissed.

"What are you doing here?" He asked, ignorantly.

"I live here, Bryant. Well, I used to. I recently moved out since my mom died. I'm living with my boyfriend and his father. But never mind that, what are you doing here?" I asked him. As if to answer my question, though, my sister came up behind him and wrapped her arm around his waist.

"Hey, Claire," she said, with a big smile on her repulsing face. "This is Bryant," she introduced us, like we hadn't met; and like she didn't know we knew each other (pretty well too, if I don't say so myself). "We're engaged!" She practically shouted.

I can't even describe to you how pissed I was.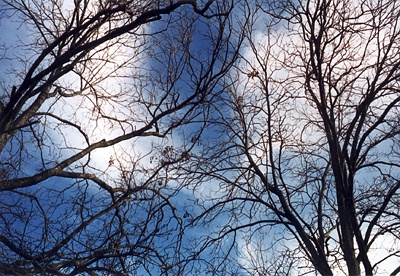 © Sarah L., Glendale, AZ