One Day in a McDonald's...
October 8, 2010
A sharp middle-aged man entered a busy McDonalds, and quickly got in line.
"Excuse me, ma'am," he apologized, sidestepping a handicapped woman.
Waiting in line, he straightened his tie and checked the time. A man in a light blue collared shirt hurried towards the counter, and spotting the elegant gentleman called out.
"Mr. Alexander!"
The businessman turned, waved and placed his order. Later, their prearranged lunch meeting began.
"Michael, so glad you could make it," the entrepreneur said cordially.
"Really, my pleasure," the other reached for a napkin and added, "I've been waiting all week to hear about our transaction!"
In between bites, Mr. Alexander said, "Yes, it is going very well. I hope to see it finished by the end of the week."
Michael leaned forward in his seat, "You really mean it?"
"Oh yes, I'm quite sure…" Mr. Alexander started.
A Hispanic employee interrupted him, putting a few ketchups on the table.
"Senor, you forget your ke-tchoop. I bring you."
"Er, thank you, miss. I, um, was wondering about those," Mr. Alexander thanked her.
He finished. "Yes, being a stock-broker is demanding, but our contract is now my first priority."
"Oh, really, Mr. Alexander?" Michael inquired.
"Please, Michael, it's Damian. And yes, you are now my main focus; even with the Whole Foods Chain Exhibit today." Mr. Alexander smiled quietly to himself.
"No, senor, it isn't! That ex-bit es next week."
Damian turned to dismiss the nosy woman, "Ma'am, our discussion is private, privado!"
"She must have been, er, mistaken," Mr. Alexander looked down, flustered.
Michael, assessing the situation, stated quietly, "The stock business, the discount - all lies. So much for a deal." He stood up and left abruptly.
Damian called urgently, "No! I was just trying to help!"
Watching the former client depart, Mr. Alexander saw only another failed stock transaction for his 'tricks of the trade' - deceiving unlucky customers seeking financial advice.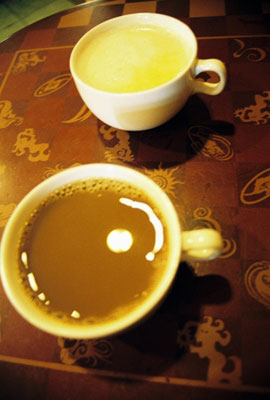 © Jaci S., Duluth, GA