Vulnerable
December 17, 2010
It was dark. She could feel the sobs burst from her throat as leaned against the wall in the small and stinky alley. Her arms were covered with bruises and her eyes were filled with fear, hurt, grief and pain.

She kept getting hit by flashbacks:

He entered the house and started hitting her mother. She tried to defend herself, but he pulled out a gun and shot her between the eyes.

Hey lifeless eyes were turned towards her. The light in them was gone.

He turned to her and started beating her up. She screamed for help but he started strangling her. She could see her brother from the corner of her eye looking in horror. She motioned to him to run.

Instead, he ran towards him and started hitting him. Her assailant let go of her and she fell to the floor, gasping for breath.

Then she felt something being thrown next to her. Her heart stopped when she saw her five year old brother dead, his face puffy, and a look of horror on his face.

Through blurry eye, she could dimly see him raise his hand. Something dark was in it.

She didn't care. Her family was dead.

Suddenly, something hit her in her shoulder and she could feel a sharp pain spread throughout her body. She looked there and saw a knife sticking out of her right shoulder. She grasped the knife from the handle and pulled it out, her bright-red blood dripping off of it.

She looked up and saw him looking at her in contempt.

She looked at the bodies of her mother and brother. Rage seared through her entire body and numbed any other feeling. She felt a sudden adrenaline rush and stabbed him.

His eyes widened with disbelief before they closed in pain.

He fell to the ground and didn't move again.

She didn't feel any happiness for taking revenge. At that moment, she was incapable of feeling anything. Instead she just sat there as the first few drops of rain began to fall. She looked up at the sky, her eyes devoid of any feeling. She was all alone in the world. She was vulnerable.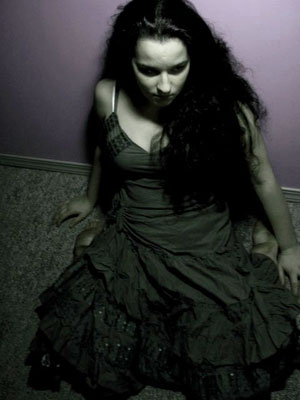 © Brianna D., Everson, WA