The Cul-de-sac
December 24, 2010
We've lived on Omaha street since I can remember or as my neighbors like to call it, Obama street. There are many memories from here as new neighbors come and go. Some staying years and others just for the time being. Omaha is a small cul-de-sac of about 15 houses. Right smack dab in the middle of the cul-de-sac is my house. It stands tall, pink and proud for all to see.

Mama's dream was to live in a home the color of tan, like smoothed sandpaper after its been used. The letter from the community requiring us to repaint our house was mom's perfect excuse to persuade my dad with. The painters came the next day. When they were finished my mama's dream colored house lay still and quiet like an embarrassed school boy who had just been punished. "Oh my gosh!" My mom screamed. In front of her was not her dream colored house but a house as pink as bubble gum. A color so bright that it stuck to the house like the smelly fragrance does to a garbage can.
My neighbors didn't really notice the color that much and I couldn't blame them. There was too much happening in the neighborhood already. There was no time to notice the fresh new paint of the neighbors next door. Somethings even went unnoticed under my watchful eye. Two houses down, pale, baby blue. This house looked scary on the outside, like something that would be in a horror film. And on the inside it was suspicious. I don't really know his name, but my brother guesses it is something like Mr. Crims.

Yeah Mr. Crims. I bet that's his name. Mr. Crims! It sounds evil, he says.

Nothing ever seemed right as I'd walk past that house. It gave me a queasy feeling just to look at it.

Parker, me and the triplets from next door, Julia, Joseph and Jeff knew he had to be some kind of criminal or else he'd come out once in a while. Maybe we were right because one day he was just gone. The furniture still left in the house and the water still boiling on the stove. Parker says he was like a most wanted criminal and a drug dealer and that one day he moved so the police wouldn't find him. Joseph says the police came one night when everyone was asleep. He was handcuffed and taken away, just like that. I think I believe Joseph more than I do Parker. The thought of even having a criminal living under our wings for years frightens me.

I guess this goes to show that you can't trust anyone; not even your neighbors. And I've began to learn that the hard way as even more people come passing through Omaha, the place I call my home.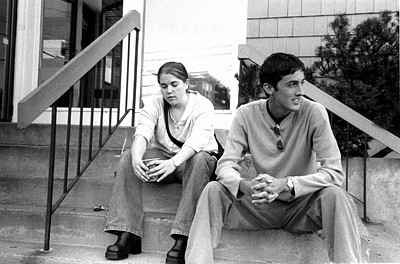 © Emily E., Marblehead, MA