Goldman's Ravine
December 22, 2010
I am ready to die. The rope isn't coiled under my bed. The hook isn't on my ceiling. The pills aren't in my closet. But I have a car. A beautiful new cerulean blue Lexus. Goldman's Ravine is next to the Interstate.

And I have a plan. A beautiful plan, filled with poetic justice. I need to visit my father one last time before I die. I had a trip scheduled for next week anyways, so I'll go through with my plans. Luckily, the road that I take coming back is the interstate. I'll drive right off the road, ending my life. Problem solved.

Of course, as many people know, "the best-laid schemes of mice and men often go awry."
The day started out perfectly. It was the type of day that you could go on living forever. Perfect, since I would never see another day again. The birds were singing, a light wind was blowing, and I was driving down the highway.

The visit to my father went perfectly. I made sure that I was nice to him, for this would be the last time I would see him. Actually, I should say it went perfectly, until the end. That's when the problems started. He wanted to come with me.

My father wanted to come with me back home. He said he wanted to see how my mother and I were running the house. I told him that he shouldn't, begged and pleaded with him, but he stood firm. Finally I gave in. I just wouldn't kill myself right now. My plan could wait. I could drop my dad off at the house then go back out and drive off the road.

On our way home, we reached the interstate. I saw Goldman's Ravine. It looked like it was just waiting for me to drop into its gaping black mouth. You can, you will wait, I told it in my head. But the ravine didn't wait. All of a sudden we hit a patch of black ice. My dad was yelling at me as the car slid sideways and I tried to correct it, to get back onto the road. Suddenly the fence rushed up in front of the car and we were over it, tumbling through the air.
That's all I remember before my head hit the steering wheel and I blacked out.

...................................

The policeman is driving down the road, fuming. He's been sent on this call to go retrieve a car that fell into Goldman's Ravine. Of course the people are DEAD, but no one seems to notice that he is definitely way too important for this. He should be helping stop the bank robbery that was planned for tonight. Finally he reaches the ravine, still cursing inside his head. He looks down and sees… a girl! Alive! All thoughts of anger gone, he begins the treacherous climb down the slope.

The girl is crouched next to the remains of the car, which was once a beautiful model. The policeman is a car-lover, but he doesn't even stop to consider the grace of the car. The only thing he can think about is getting this girl, and himself, out alive. Not only is this a very rocky area, many bandits hide out down there and he's pretty sure that his "police authority" won't help him here.
But the girl won't leave.

"No… my father…" she mumbles.

"Come on. You can worry about what your daddy thinks once we get out of here," the policeman says, a little impatient.

"NO!" explodes the girl. "He'll never think again! He… I…"

"Oh," says the policeman. "Well, in that case, if he's, uh… passed… then let's get you back to the station so you can warm up and tell us all about it, okay?"

"Sure," the girl mumbles, sobbing.

They begin the climb back up again. But the girl is destined to never leave that gorge again while she's alive. As they near the top, two shots sing out, both bullets finding their marks in the heads of the man and the girl. They fall back down.

A screeching sound hangs in the air, coming from everywhere.

Goldman's Ravine is laughing.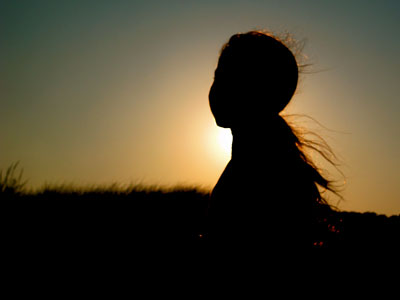 © Barrie T., Scarsdale, NY