Alone?
January 28, 2011
She huddled on her bed, cold, knees against her chest—not because she was shivering, although she was, and not because she was afraid, or worried, because she wasn't. There was nothing to fear, not anymore, not even her once and past nightmare of dying. But she was simply tired of dealing, and weary of people's fake condolences. No one cared for her suffering; yes, they felt the same loss as her, perhaps, but no one would, or could, understand her wept tears after so long, or comfort her in any sincerity.

The room was bare, all plain white walls and thin wooden floor boards and fading blue sheets. Glow-in-the-dark starts, pasted onto the ceiling, and even on the windows where a frenzy of ideas she had stuck them on, were the only decorations she had let remain the day she decided all of her belongings only reminded her too much of her sister.

Music and merriment wafted down the hall; even the scent of sugar cookies could be smelled. Her mother had put Christmas music into their CD player, and lyrics to "Walking in a Winter Wonderland" wandered through the house. How could her mother feel so joyous when only a year ago Eleanor, her sister, had tragically fallen to her death?

And how was it, that fate had found it fitting to take away Louise's only guidance, her twin, practically her god, and leave Louise utterly alone?

The girl sighed, entrenched in her dark thoughts, stretched out towards a caring hand that never came. She hoped she could stay here, without interruptions, and she could watch the world go by.

A knock, though, came at her door, and without waiting for an answer her mother opened it, her socks dampening the sound her footsteps made.

Louise's mother had a face similar to her own: very innocent-looking, a soft jaw line, and heart-shaped. Her mother's green eyes lingered on Louise's, pleading her to please be with other people, and in her mother's expression the answer was elucidated, was almost like reading a map for getting out of the hole Louise was stuck in. Louise hugged her; because really, all she had needed was for someone to simply show they cared.

Her mother's hand guided her towards comfort, through the hallway, down the stairs, and to the living room, where the Christmas tree was, short and fat and surrounded by soft brown pine needles. Her grandparents were relaxed on their sofa, laughing, in their living room, where a fire burned in the fireplace, and stockings and photos were on the mantel. Surrounded by her family, she felt safe. She felt the same magic Christmas held for her as a six year old, when Santa made wishes come true. The windows reflected a feeling of hope, showcasing the new beginning that snow represented.

With the rest of her family, Louise picked up a box of decorations, and began stringing lights and ornaments on the deep green prickles. And as Louise took the beautiful star, glittered and snowflake-like, she learned to forget, reminisce in better memories, and move on.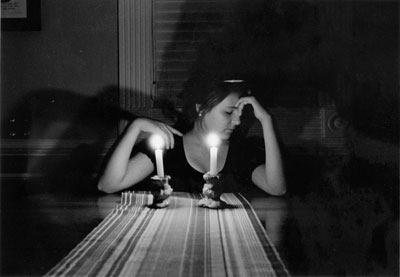 © Eleanor K., Bethesda, MD