__TWO__
February 16, 2011
The lights appeared out of the darkness as the clock struck one. The car came to a screech on the side of the street. A door slammed and footsteps echoed on the concrete earth. A cough, a shuffle and the sound of a doorbell could then be heard throughout the house.
He had been sleeping when he heard the man at the door. Groggily he stood, running his hands through his grey hair. Slouching his way down the hall, he slipped on his coat before opening the door to join the man on the porch. He shivered, yawned and then spoke: "Is it finished yet"?
The man nodded and reached into his tote, retrieving a brown cardboard box inscribed Lawrence Helving from within its folds. Handing it to the man they shook hands, he stood, took the cash he was given and dashed off to his car. The lights disappeared into the darkness with the squealing of rubber. It was only five past one.
The air was thick with water as the man stood with the package between his hands. It seemed as if it could rain- though the man knew it wouldn't. He stood alone eyeing the package. He tossed it, felt the sides of it, and jerked it around. It seemed everything had made it intact. With a deep breath he tried to grasp its edges and pry it open with his tired hands but the tape held its ground. He tried again. This time it gave way on the left side of the package. He tried again. No more progress was made. Too tired for another attempt, he opened the door to his house and went inside to search for a knife. There was a sound of rumbling, clanking metal as he pushed forks, spoons and straws aside. He wanted to know if what he had received was truly what he wanted, and fast.
*
It all began with her- his wife. She wasn't the most beautiful girl he'd ever met, but he had loved her nonetheless. Her beauty instead, was her gift of carving. Every piece of wood she touched turned into a beautiful masterpiece. Her favorite wood was maple. She reeked of the carvings every day and night, but Lawrence didn't care. Through her art she was dazzling to him. Her hair glistened like the gloss she'd put delicately on the wood. The freckles that riddled her face could have been the pieces of sawdust that flung into the air as she worked. To Lawrence, Molly was the most beautiful girl in the entire world.

There was a time when they were perfect.

It had been Molly's thirty-sixth birthday. The sun was subdued behind the disappearing white cotton balls that floated in and out of the blue sky. She was sitting inside, fiddling around with her newly crafted owl. She was working on its deep eyes downstairs in her workshop where no light from the outside world would distract her.
Lawrence decided to take this opportunity to set up her present. The leaves fell in orange and red around him as he worked outside. His hair and fingers became dirty with the soil, but he couldn't stop smiling as he worked. He knew she'd love it. When he finished he went inside to wash off a bit. He took a quick cold shower, dried and put on his best black suit and gold tie- her favorite color- and went downstairs to call her outside. He was just fixing a piece of brown hair that had fallen out of place next to his gift as she stepped outside.
It was hard to see from where he stood- the sunlight seeming to shimmer off of her bobbed red hair- but he could see tears. Joyful tears that cascaded down her face as her brown eyes beheld the newly planted maple tree beside him. She stood there for a moment, in her yellow polka-dot dress. She held her hands to her face, trying to stop the tears with a swipe at the droplets every so often. Then she was running. He was there to catch her. The sunlight fell in golden streaks across the lawn as they embraced.
He could recall exactly what he'd asked her that day.
"Do you like it"? He gave her a kiss on the cheek.
"Forever and always..." she said smiling through the tears. "Forever and always..."
*
The sound of clanking stopped as Lawrence found the only knife left in the drawer. Two small droplets of water fell onto the metal as he stood there holding it between his hands. He remembered it all- as if he even had a choice. But, he didn't want to remember it yet. He wanted to see it first.
Picking up the package, he examined it carefully. The tape seemed to only require one fell swoop of the knife on the right side of the package. So he did just that. The package opened easily, and with a "pop" the cardboard top gave way to reveal her old master piece- a small wooden picture frame.
It was more beaten than he remembered, but he assumed that was because of his mistake in giving it away a few years back. It was old but the thick gloss helped the wood keep its shine. The frame was nothing much but it reminded him of the owls Molly used to make. It held eyes behind jutting out leaves that carved their way around the border of the mirror set inside of it. He could see scratches in the frame and in the clear glass. Twisting it over in his hands he found the words she'd said that night inscribed on the back of the chipped mirror's edge: "Forever and Always". Rubbing it with his fingers he began to sob.
Slouching down in the chair beside him, he cried like he did back then: Large cascading tears of sorrow that left ripples of red on his aged skin.
They had once been perfect.
They had once been torn apart.
It was mostly his fault- mainly his fault- for separating from her. At least he liked to think so. They had begun to fight. She was too engrossed in her work. She wasn't spending enough time with him. He was too picky. Nothing was ever good enough to suit his tastes. The fighting ensued for days. Then like fire in a crackling wooden hearth, it burst and engulfed their entire life.
It was too much, so she left. He sold every possession of her's that was still in his care, including the mirror. He didn't want to remember. He didn't care anymore. At least, not until she left forever.
He could only remember the rain. His eyes had been too swollen to even attempt to look through his puffed lids. Her casket was black. It was made from wood. He ran, only stopping when he reached their house. It was raining there too.
He never once cared for that mirror once it left his possession. But somehow when she vanished, it then meant the world to him. He had to get it back.
Finally after twenty long, painstaking years of searching he could hold it in his hands. He could make out the marks she'd made where the chisel had slipped from her hands. He could see the reflection of her by his side in the mirror. He could hear the words she had whispered that day by his side: "Forever and always"… as he rubbed his thumb where her hands had etched the words.
He never quite understood what she meant, but the phrase had been her own. When she died those words always seemed to haunt him. They followed him everywhere he went but he loved them, just like he did her- nonetheless.
Had she meant that she loved him? Did she mean to say, "I'll always be here for you"? Had she meant to imply that he would always be the one for her, or was it purely her own way of leaving him guessing? She was always like that though: a mystery.
Lawrence could feel his eyelids droop, but he didn't want to stop looking just yet. He still wanted to hold it, to feel it, look at it, fix it, care for it and have it forever by his side. He wanted to care for her, help her, watch her, embrace her, love her, live with her, live for her, forever and always.
Maybe that's what she meant by "Forever and always". He asked laying his head down upon the wooden kitchen table. He stroked his hands over the words once again, trying to feel them, to etch them into his mind like she had the wood twenty years earlier. The clock began to strike two.
"Always and forever", he mumbled to the dead house as he began to fall asleep. As soon as the clock finished, he was out; his hand still resting on her mirror that lay face down on the table.


She had died only one minute past two.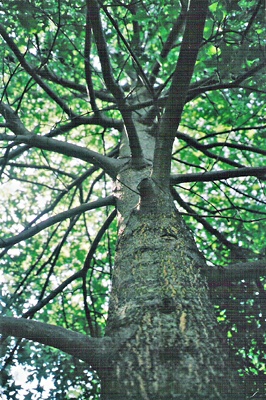 © Bhuvaneswari R., Sleepy Hollow, NY