Feel the Earth Move
March 20, 2011
When I was a little girl, my first grade teacher told me the the Earth was constantly spinning around the sun. I'd giggled and said, "But that's impossible! We'd feel it if we were spinning."

After much arguing with a stubborn six-year-old, she'd finally convinced me. I'd gone home that day and stood perfectly still in my backyard, trying to feel the Earth move.

I started going out there everyday after school. My mother would scold me for leaving my homework until after dinner, and she'd eventually had to make a rule that I couldn't go out there until I'd finished with my addition drills or spelling sheets.

I felt like I had a special relationship with the Earth. She was my friend, and I could tell her anything. Everyday that I'd go out there and stand, eyes closed, not a muscle moving, she'd greet me in her special way and I'd smile in return.

I stopped my daily meetings with the Earth in October of my second grade year. I'd told my supposed best friend about my daily ritual, and she'd laughed at me and told the whole class. I'd gone home in tears and had one last solemn get-together with the Earth, telling her I wouldn't be visiting anymore.

Every once in a while, I'd find myself perfectly still at the most inconvenient times -- in the middle of a sixth grade volley ball game, on a hot date -- and I'd remind myself that I'd sworn to give that ridiculous habit up after that horrendous day.

I still haven't felt the Earth move yet. At sixteen, I continue to wonder if it's possible. I've failed many tests because I've been staring out the window thinking about my former companion instead of studying.

Today is my birthday. It's a beautiful sunny June day, and I'm sitting with my cat Felix on the back porch in cut off jeans and a tank top. I tilt my head to the side and look at the spot I used to stand for hours on as a child.

I absentmindedly scratch Felix's ears. He loves that. Just when he starts to purr from his beloved attention, I get up and meander over to my special spot.

I plant my feet and close my eyes, feeling the sun shine on my back and the wind rustle through the grass and tease my hair. I wiggle my bare toes and a slow smile stretches across my face as I greet my old best friend.

She seems to laugh joyfully in return, the sound coming out as sparrows chirping and trees rustling. She's glad to see me, and I her.

And, for just a moment, I swear I can feel the Earth move.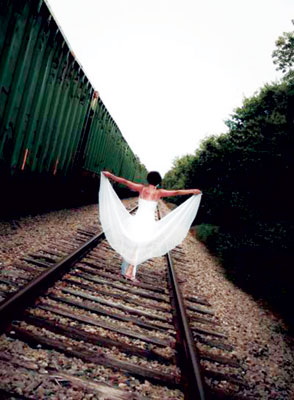 © Olivia E., Alto, MI