Her Eyes
May 2, 2011
It was 11:02 and he was trudging solidly with the uniform flow of grey, faceless pilgrims on Grant Street. The sidewalks were thick but broken and the people's shoulders were wide but bent. Here was a commute where all were one: a faceless, sexless, colorless mass moving everywhere and getting nowhere. He had never wondered where they were going or why they were here.

Then, as if seeing a bit of blue sky behind a sheet of grey clouds, he saw a banner of blue fabric, waving, weaving; and as it wove itself closer and he walked toward it, he traced the curves and color to its origin, from ankle height sloping up and bending all the way up to where it wrapped itself around the loveliest Venus form. Never before had he realized just how grey the street looked until he saw that streak of blue dress. Dresses of any recognizable sort were an uncommon sight on this street at this time of day. But what caught him suddenly were her eyes.

The day [EM] was born, she had such large, bright eyes, she seemed capable of consuming the room with them in a glance only. She cried very little as an infant and spent a good deal of her waking hours consuming her environment: faces and arms and bodies, rooms and buildings, with those indelibly cute, round eyes. They were not simply "blue" either. They were a mid-day sky-blue near the center, mixing with rays of faded cobalt and evening sky-blue spreading to the edges of her irises. The effect was like a perfect picture of a high-tide tropical lagoon in one of our modern travel magazines, where the varying depths of ocean result in a full spectrum of blue and all its shades. Some said there was even a hint of gold in her eye, but it very well could have been a mixture of imagination and day-light. Or perhaps, somewhere in the lagoon a pirate really had dropped his few glittering doubloons, and from the bottom they sparkled, and when the light reached deep enough they let out a shimmer.

It was into those eyes now that he looked, as though standing on the edge of a great and widening frame, as though ready to dive in their warm waters and retrieve the lost gold somewhere in those depths. The curling, twisting fold of her hair was a mantle, a crown about her face, and those eyes were star-Sapphires, sending out rays of light wholly their own, as though time had petrified the smallest crystal globes of stars. And now he knew there must be a God, and me must truly be a Craftsman exceeding any human artist, for here was beauty beyond form, as though loveliness had vaporized itself and then distilled into purity. Beauty, disembodied, then given form again. In that moment- the smallest space of time a glance could be, he lived eleven lifetimes and died eleven deaths. He realized empires and saw cities of great might and power crumble, rich men cry, and famous men die alone. He met love and peace and loneliness and sorrow and comfort and wildness.

And he knew then that somewhere behind those eyes there was something unspeakable. Empires expired without it, and great cities crumbled because they lacked it. Rich men had surely tried to buy it, and many famous men had tried to earn friendship with it, but they never were able to pass the lentil and frames of the beauty of those eyes. His eleven lives passed with barely a flash. They were all empty without the one, unspeakable, intangible thing deep inside those jewels of blue and white and black. Without her he would die alone, and in every one of his eleven deaths was a memory of her. And suddenly he knew what it was to be a burning Rome or crumbling Athens. For he had, if only for a moment, seen his highest moment, something he could never live without again.

He knew that as long as he looked into those eyes, time stopped and he could live forever, but the moment she looked away he was doomed to die having once tasted immortality. He was a late summer leaf, trembling in the colder winds for it knows that when autumn comes it will fall from the tree, brown, wrinkled, and lifeless. Her eyes were his sun, giving him life for the summer; but all leaves fall and all seasons come. And so she turned her head.

He exhaled.
For the first time in eleven lifetimes he exhaled. His legs felt weak, his arms uncoordinated, and his heart was dancing wildly. But there she was – and he had once looked into her eyes!
Before he could blink, she was gone, and he was walking once again in the forceful flow of people along that stone sidewalk, desperately glancing over his shoulder at the train of her blue dress, like a drop of pure water slipping through the gravel, her blue dress disappearing in the grey mass of pedestrians.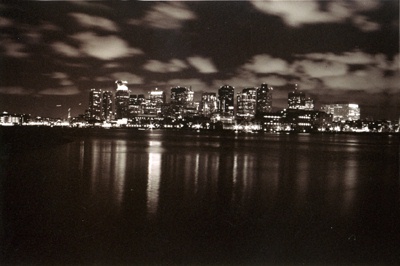 © Hoang P., Rochester, NY