My Heart Smiles
June 6, 2011
I can hear the little voice in my head telling me to stop talking and just walk away, not to let him in anymore, to stop telling him about what's going on.

"What is happening? I thought we were past the secrecy…" he whispers, almost seeming hurt by my hiding things. I look up and his blue eyes are staring at me, waiting for me to respond and say something that wasn't 'I don't know' or 'Because'. The thing is…I don't know what else to say that will keep me intact.

"I-I…I want to be friends…I don't know if you want to or not, but I'd like to be friends…I like to talk to you…But…I can't right now," I whimper, turning away from him. Before taking that first step away, I pull my shoulders back and my head up. I wipe the measly tears from the corners of my eyes and I straighten my dress. I fix my headband and take one more deep breath in. Without looking back at his face, complete with tears beginning to stream down, I walk away.

I take confident steps and even smile as I walk back into the crowd. Momentarily nodding to some friends as I pass through, I make a bee-line for my friend, Nicole. Who also happens to be his friend. After five minutes without a glimpse of her, finally I turn around and am about to go back to him, but she's making her way in my direction.

My smile fades and my eyes collapse as the tears start falling. "What happened?" she asks, putting a hand on my arm and guiding me to the edge. We come out into the open on the opposite side of the crowd as I was with him. "What's wrong?" she asks again, a little louder, as we sit in the grass.

"You need to go find him. Please. Go talk to him," I say firmly, sniffling back the tears. "Tell him I'm okay. Tell him I'm sorry, but I'm okay. Tell him I hope he's okay, too," I said. "He needs you."
She's not talking, but she's giving me this look that says 'I know you really want to do this yourself, but you think you can't, even though you really can' and I turn away to conceal my face. Once again, I stand, I wipe my eyes, adjust my dress and headband, take a couple deep breaths, and turn to her. She's already up, too. She smiles at me, squeezes my hand for a moment, and walks off to find him. "Hey Nicole?" I call as she's halfway back to the crowd. She turns to acknowledge me. "I'm going to head home. I'll see you Monday at school," I say. She tilts her head and gives me a disapproving look before cutting through the people and picking up the pace.

I take some more time on the edge by myself, to regain my composure, before I head around the people to where I parked my car. It was just dark enough that I could tell someone was standing beside the vehicle, but I couldn't figure out who it was. Assuming it was Nicole, meeting me there after discovering that he'd left already, I let my shoulders slump a little and my head hang a bit lower, I even stop to slip off my sandals and begin to cry again. "Oh, Nicole…" I sigh as I come within maybe ten feet of the drivers' side. "I'm so sorry…"

"Don't be," I hear him say. He steps out into the light as I unlock the car.

"Oh…" I say, stopping dead in my tracks. "I…I'm really sorry, but…I can't do this," I say, beginning to cry. Not just some tears sliding down my cheeks, but real crying.

"Nicole talked to me. She said I should tell you this because it would help things between us. I really like you," he says, barely audible.

I hear my bag, keys, and sandals fall to the ground. The tears racing down my face start to feel like lead, weighing me down and holding me in place. I can't move. My feet are plastered to the cement and my legs are wobbling in their place. My eyes are glued to him, though, watching his every move. From the exasperated, dramatic sigh with a swear to top it off, his hands unclenching to run his fingers through his brown hair, then falling down to his sides to clench once more, to him spinning around in the night, trying to make sense of what I'm thinking, and finally stopping with his arms around his chest, facing me, begging me to help him out here.

Slowly, my mind registers what he'd said. I start to realize what this means…rather, what it could mean. I leave my things lying on the ground and carefully step towards him. One foot in front of the other, and soon I'm right in front of him. I unfold his arms and clasp his hands in my own. "I…I really like you, too," I whisper. It's a miracle he understood it through the blubbering and sniffles. He looks down at me, his blue eyes glimmering with tears, and smiles. I take in his face, his relief-filled, tear-stricken eyes, the wet cheeks from crying, his smile and the way he looks so innocent and like a little boy.

He just keeps smiling at me for a few moments, and soon, I'm smiling back. I'm so happy, I can feel my heart smile, too. Then we begin to laugh awkwardly, for lack of a better way to respond. I realize I left my belongings in the middle of the road and go to retrieve them. He follows and we have a pleasant conversation, small and light-hearted. He walks me back to my car and opens the door for me to step in. After a few seconds of standing there like that, he says, "Are you really going to leave? I think Nicole would like to see that we're okay, now." He smirks as I step back out of the car and put my sandals back on and drop the keys into my bag.

"Let's go," I smile as we make our way back towards the people, just walking beside each other at first. Before we'd crossed half the lot back to the crowd, he'd pulled my hand into his own and we were swinging our arms back and forth, laughing and continuing our playful conversation.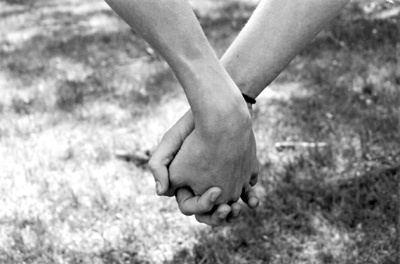 © Alexa T., Pompton Plains, NJ