Baby Girl
June 6, 2011
"Melanie?"

Oh s***. The dye needs five more minutes before I can wash it out….

"Yeah?"

"Are you ok?"

That's a great question, Mom. Am I ok? Am I, damn it? I wear black everyday, I listen to screamo and play their songs on the guitar, I rebel against your stagnant suburban mind-set – am I ok?

"Yep, just taking a shower. Don't come in. I'm not dressed."

It's so easy to lie these days. So easy to feed you this image of the standard angsty teen, just looking for attention. So easy to create this other girl when I'm out with my friends of Hallow, like Halloween, dark and depressed just like the rest of them. So easy to lie.

"Ok, baby. We're about to watch Chocolat if you want to watch it with us," she entices, her wheedling voice worried, hopeful.

"No thanks, Mom," I sneer, hostile, while my heart aches and squeezes, longing to watch the chick flick with her.

Yes, Mom, I do want to watch Chocolat. I want to be your baby girl again. I want to wear those frilly waist-high skirts, those thin flowery t-shirts, those simple-colored flats that I can get for five bucks at Rite-Aid, just like this black hair dye. I want to flirt with boys and believe in superficial love. I want to go shopping with my friends in shops other than Hot Topic and thrift shops. I don't want this edgy-me any more. I don't want this rebel.

Yes, Mom, I want to be your baby Melanie again.

But I can't turn back now. I'm in too deep.

I could hear her soft sigh through the crack between the floor and the old, white bathroom door. I could hear her heavy tread on the polished floorboards, and maybe even a few suppressed sobs, as I pressed my ear to the cold linoleum tiles and the painted wood.

S***. I got hair dye on the door. And the floor.

I sat back against the cupboard, turning the bottle of hair dye over and over between my fingers.

"I'm so sorry, Mommy," I whispered to the empty, dispassionate air.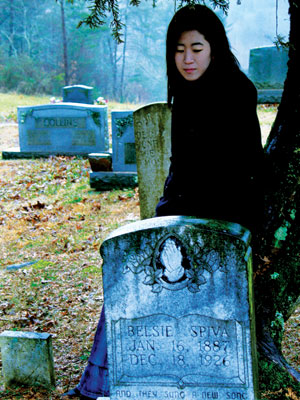 © Michelle B., Blairsville, GA