A Stranger with Benefits
June 30, 2011
Pot, shots, and drugs are to familiar to Ash, he takes at least one a day to keep himself alive.
With blood running through his veins and bones filling his frail body, he briskly walks down Smith Dr. with no coherence. These drugs keep Ash stable, without them his body would increase in adrenaline and then sooner or later death would hit this drug addict; its a drug for living. His family and friends live out of state, even out of the country, no help can save this boy from redemption. However, one day Ash, doing his usual morning smoke, came upon a girl who looked different, different by being out of state.

The two of them walk by each other with a glance to each others eyes, a certain confusion passes from her to him. She steadily stops Ash.

"What do you want?" questions the friendly touch upon Ash.

"Um. I was just wondering if you could help me with some directions?" quietly speaks the white female.

"Mhm. It's a rough area around here, you know you could get into some mighty trouble touching people like that?" Ash responding while looking intently up and down her body. "Alright I'll help."

"I need to go to 62nd Westfeild Avenue." the women reads a rough looking piece of scrap paper, which came from her pocketbook.

"That's across town, those be the fancy rich people, you don't look of a sort, you a reporter or sometin'?" Ash asking the lady while scratching his armpit.

"No, actually I'm a manager, a musician manager for Snoop Dogg, he wanted me to come by his house to officially meet me." the lady response with a smirk on her face.

With no thoughts rushing to Ash's head he stands dumb founded at her for at least thirty seconds. He takes in a deep breath of smoke and lets it out of his nostrils letting it flow on her face. One thought actually popped up in his mind, raping her, however he had even a better idea which would hopefully set him a record deal; bribing her.

"Ight, I'll give you directions if you give me a record deal with Snoop Dogg, I got some raps which could kill Snoop Dogg out of the music industry, even kill him." Insisted Ash.

"Hahaha very funny, I could give you a chance but only one, you got to promise me not to blow it." stated the lady while waving her finger at his face. "Hey by the way whats your name?"

"Ash, Ash Ketchum." Responding back to her. "And yours?"

"Angelina Jolie, I couldn'tbelieve you didn't recognize me." She turns and walks away.

Ash is stunned. He looks at the cig in his hands and throws it on the ground, smashing it with his boot. He finally found the drug of living, music.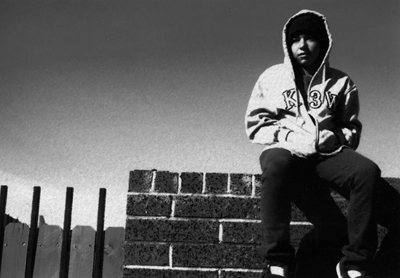 © Stan G., Phoenix, AZ