*JACK*
July 14, 2011
A boy ran down a side street. Well, let us say a very young man. His hair was both blond and brown, strait, and flying across his face. His eyes were a pretty turquoise blue. No one ever noticed that he was at all handsome. He wore an ugly yellow shirt, gray pants and beige suspenders. He wore big black shoes with a hole at the front where a socked toe stuck out.
Behind him the sun began to sink towards the horizon. The sky slowly became pink. The soft pink of a ladies cheek. He hurried into a small run down building. Inside the noise was tremendous. Laughter ringing off the walls, singing, the sound of a fiddle. Dancing figures spun round and round. All was filled with excitement about a regular event. That's what was so good about it. Jack, the boy who rushed in the door so silently hurried to the booth of the bar. "Two beers please," he ordered. Right away the two beers sat in front of him. He took a long thorough drink. One thing about Jack was that he loved to have fun where ever he found it. He was care free, and high spirited. Rarely did something put him down. He was young. Eighteen, nineteen at that the time, and smart in all sorts of ways.
After he had finished his drinks, he rolled him self a cigarette, lit it with a match he struck on the counter, and took a quick puff. "Jack my pal, what the hell are you doing here?"
That was ol' Richard the tough guy in town. He was fat alright, the big man, and let me say that Jack felt shy under the eyes of that monstrous figure! "I was getting a drink," said Jack staying calm. He was a thin guy, and did not intend ol' Richard to start a fist fight with him. "Oh, is that so?" Ol' Richard sounded so mean. He must have had a few glasses of liquor before he stumbled into this bar. That could make it worse, thought Jack, or better. He did not know though how Richard reacted to drinks. He just prayed that Richard would spare him. Oh, if only. Richard liked to pick on little boys, and fight with young men. Young men who were smaller than him. He couldn't stand no men who were as big as him. He despised any man who ever laid a hand on him. He could not loose a fight, it killed him.
Jack headed to the door. "Nice seeing you Richard," he said in madder-of-fact way. Richard took a blow at his head. Nimbly Jack stepped to the side. Richard's fist slammed into the wall. Jack stepped out the the door quickly. He had just about been half killed. He laid back against the wall for a moment taking in a long breath of thanks. Then he darted off. Richard would detest him so now. Just imagine his anger that a small thin young man defeated him in a fight with out any blood.
The noise from the bar, the howls from Richard, music, chaos, singing, laughter, dancing feet, drunk men falling off their chairs. All this slowly became the sound of birds twittering in the new morning.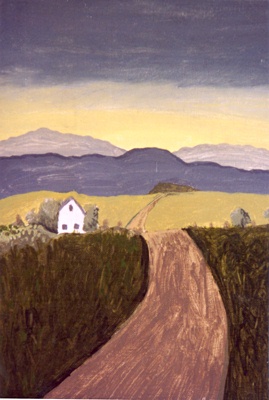 © Alisa L., Tracy, CA