A Story of Life, Love, and Family
July 23, 2011
Louie Hornstein. He was a small breakable child when his father, Louis Hornstein died. It was tragic. Louis was a young man, not even employed in his beautiful hometown of Sunset Valley. He died the first day he and his family moved to a new home. He was just exploring, being driven down a long dirt road when his cab driver passed out of a stroke. The car swerved and the woods in front of him marked his death. It was later that evening when a worried Silvia Hornstein found out her husband was dead. That was the beginning of the end for the Hornstein family.

Silvia Hornstein became a cocaine junkie and a drunk. It wasn't long after that when little Louie started to feel the effects of loss. He became the neighborhood bully, instead of the shy, insecure new kid. He was something to be frightened about. You could say his personal turmoil was the result of his mothers' emotional instability. Either way, it definitely wasn't a good time for the Hornstein family. Soon after, Louie and Silvia began to argue with each other. Sometimes the arguments got so bad that their neighbors had to shut their windows to avoid hearing the rotten words that drifted from the mouths of the Hornsteins. School became an option for Louie. He never tried to pay attention the slightest bit, or even do his homework. He eventually became a D student, which didn't matter to his mother who was either too drunk or high to pay attention to Louie or his grades. Silvia was having alot of financial problems as well. She could barely pay the rent. Silvia couldn't hold down a job. She still hadn't discovered what her purpose in life was, or what skills were best for her. But one day, Silvia had no money for drugs and had run out. So there was no way for her to get to her artificial happy place. Reality sunk in. And so did hunger. Silvia began to cook and realized when she took her first bite, that cooking was what she liked to do and what she was good at. And that began a new and beautiful era in the Hornstein family.

Silvia began to like reality more now that she had found her purpose: to be the best chef that was humanly possible. She discovered her happy place was down on Earth, and not somewhere in the chemical prison of drugs and alcohol. Louie, however, was still suffering from the permanent effects of a far off mother and only a memory of his father to keep him going. His only excuse for living was telling himself over and over that continuing in life would be what his father would have wanted. But stress gets to every person eventually. Louie was planning to leave his home and run away to Riverview; a town of quaint joy and new promises for the lost child. But on the exact day he planned to leave his horrid past, his mother did something wildly unexpected. She kissed him on the cheek and told him dinner was on the counter. Louie was baffled at his mothers' severely out of character behavior. She looked at him with eyes made of crystal, shining brighter than any sun in the galaxy. She socialized while he ate his delicious first real meal in years. Before he knew it, Louie began to exchange words of hope and love, masked by casual conversation. That started the forgiveness in the Hornstein family.

Time went by, and so did problems. But unlike the past years, the Hornsteins' learned how to overcome them instead of dwelling on them. Silvia got employed in the food industry at Little Corsican Bistro. Louie found out that there were other ways to get satisfaction in life besides tormenting others. He became a regular child. Normal, you could say. Louie eventually found out that when you send off positive signals, you receive them from others. He became best friends with a girl named Darlene Bunch who lived a few blocks away. They were friends to the end and maintained a bond that was immune to anything that came in their way. They grew into teenagers together, feeling just as connected as before, maybe more. But things changed when they were chatting by the mailbox and Louie kissed Darlene softly upon the lips. It wasn't long after that when they became a couple. Silvia was extremely happy with the way things were shaping up for Louie, even though sometimes she did envy the looks of love the couple exchanged. But problems emerged in the Bunch household. Darlene's father got laid off and the Bunch's could no longer pay the mortgage. Darlene confessed to Louie one day the horrible truth: "I will be leaving soon. My parents can no longer afford our home, even with all of my eldest siblings working part-time jobs. I will leave Sunset Valley and my heart behind." But Louie wasn't going to give up that easily. He asked Silvia if Darlene could live with them. Silvia wasn't opposed to the idea, but she wanted to know that Darlene would be a responsible member of the household. Darlene offered to give up half of weekly salary to Silvia in order to pay for expenses and the other half towards her family in order for them to stay in Sunset Valley. Silvia accepted with a smile. That began friendship in the Hornstein family.

Silvia became exceedingly envious of Louie and Darlene. She wanted someone to love so much, and another child terribly more. She began to have a relationship with Marty Keaton, a divorced athlete with more muscle than the entire Hornstein family combined. Sorrow fell as Silvia began to notice Marty retreat from her, and she worried he was going to end their connections soon. But that was the exact opposite, for that very day Marty Keaton proposed. Silvia felt so happy she burst into tears. Finally, she had a person to be with forever, who would never leave her. Soon after, Silvia Hornstein became pregnant. Louie was excited that his mother had found happiness, and that soon he would be an adult living in a world that he now saw differently. Darlene was also going to be an adult soon for her birthday was only days after Louie's. The time went by slowly. But when Louie finally turned eighteen, he was eager to leave the house, even at a young age. He left on the evening of his birthday, with Darlene following to their new ranch house. After a few renovations, that house became Louie's dream home come true.

So many things have happened to Louie since his father died. Some good, some bad. But the ones close to him have kept him in a good place. A place that he plans to stay in for a long time. And hopefully, when Louie raises a family of his own, he can pass on the joy that he feels to them. And they will know that no matter how grim things might look, there is always a way to keep moving forward.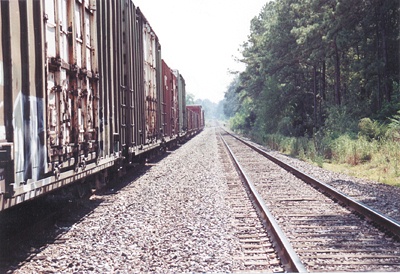 © Cassie C., Kirbyville, TX