At the Bridge (part 1)
August 17, 2011
The light was dim, but the air was sweet and warm. Though twilight was fading to dusk, the stars seemed to sharpen, and their glances lit the water under the bridge as a second sky in an underwater world. To the side of one end of the bridge was a great tree, gnarled and thick, whose branches stretched out ever to the sky in a wise and weary way. In its younger days the skin of the tree was smooth, but countless years of lovers carvings scarred its face with hearts and names, ever stretching by the slow growth of the old tree. She brushed her fingers across its dry, cracked bark. She felt she needed to, to touch it like a healer. It was a lone witness to so many lovers, gashing their legacy in its thick hide. Never a thought to it, never a thought to its heart. She smiled wryly. But the names were often obscured by time, or forgotten, leaving only a scar upon the tree's rough skin. Perhaps so it is with all life, she wondered. Growing, always growing older, and forever love-branded with the vague, beautiful, painful memories of youth. Perhaps in the end there will be nothing left but this tree, and the scars they left- the scars they left on…
She dropped her hand from the trunk of the tree, and passed to the other side of the bridge.

She settled in the damp, holding her knees tightly with cold hands. And waited.
As the moon rose higher and her eyes became accustomed to the silver shades of midnight, she grew restless. There was a great space to be paced now that the darkness did not enclose her. With great effort she straightened her stiff fingers, one by one, and stood up. Folding her arms tightly against her thumping chest, she paced the grass with her soft bare feet, to the sound of the late-night insects. Would he even come? She smoothed her hair down with her palms and strained her ears to the silence. There was a crackle, but nothing more. It felt like hours, but her heart never slowed.

Then, step. Step. Step. She froze, and smiled. He hadn't reached the bridge yet, coming from the other side, so she straightened her face and started counting to twenty. She stopped at seven, and walked as slowly as she could to the middle of the bridge, where he was leaning on the left rail, looking down the river with a patient stare. It was ages before he turned her way. Too excited to be slow, She stepped cautiously forward and he made a sheepish smile.

She never forgot what they said that night, just an arms length apart. She felt she would have to run if he stepped any closer, would shut up if he spoke any louder. But she had stepped off the edge of her walls and windows, and now, falling, she could only allow a smile to peak through her stiff pose. Talking to him felt like plunging in a lake. It wasn't as scary as she'd thought, but it wasn't as warm as she hoped. It was… what it was, she thought, as she floated on home after he left. She dreamed of nothing that night, but slept deeply and purely.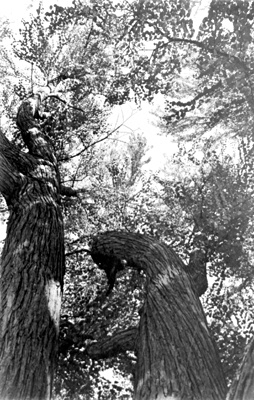 © Tim K., Marblehead, MA