Give Me Your Purse
September 2, 2011
Leukemia…

That was what would make my firefly life shorter. Maybe, this was where my story would end—I would die. When the doctor told me about it, I wasn't dumb enough to be unable to translate what he said into a simpler term: goodbye. People said it could make you more prone to infections but leukemia couldn't kill you by itself. All I could say was that those people were dumb.

Anyway, I would be lying if I said I knew something about that disease. In fact, all I knew about leukemia was that it was blood cancer. Oh, that's not all. It was what killed my friend and it was what caused my father to suffer. The doctor said that there were types of leukemia and he told me what was mine. But I didn't pay attention to it because no matter what happened, it was still leukemia. Blood cancer. Serial killer.

The night was dark. Of course, nights were always dark. But it wasn't what I was talking about—the moon wasn't bright enough for me and the stars that were supposed to be hung up in the sky were out of sight. The lampposts and the fireflies that reminded me of my life length were the only sources of light I had.

Bending down, I picked up a rock and sat on a bench. The park was deserted. So I was alone—except for the fireflies and the chilling cold of the night. Gripping the rock, I tried to see if I could break it into ashes with my palm before it could make me bleed—I tried to see if I could fight against cancer before it could kill me…

Pain made its way into my palm and I knew it—I lost!

Sighing, I looked to my right to see a silhouette of a man from afar. Realization—that he was walking toward me—hit me. That was when I stood up from the bench… and ran. Before I could reach a distance, a big, masculine hand grabbed my arm and it was instinct that made me scream.

"Keep quiet." His other hand was holding a knife that was aimed toward my throat. If he would kill me in a second, it was better than leukemia who would torture me before I died. Still, it was terrifying. "Keep quiet."

That was when our eyes met, brown to brown. His features were that of a prince a little girl would ask for. And we were staring into each other like a boy-meets-girl-and-the-world-seemed-to-stop movie scene. Could it be that this man was my prince?

He raised the knife higher, aiming exactly where my pulse was. "Give me your purse."

"What?" It shouldn't actually have surprised me. Maybe, not if I wasn't dumb enough to think of him as my prince charming. Of course, he would kill me without second thoughts.

"I said 'give me your purse.'" When I didn't make a move, he made me feel the steel, light enough not to make me bleed. "Now."

Frantically, I gave him my purse. Taking it from my hand, he squared me in the eyes… and ran away. I sighed and tried to relax my heart beat. Too bad, leukemia would still have someone to play with.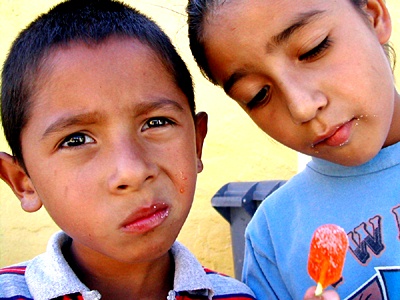 © Jessica H., Austin, TX