The War is Over Yet You Haven't Come Home
October 16, 2011
I wake up every morning, make coffee, and cook scrambled eggs for two. Then I wait for a half hour for Nick to come downstairs, until he doesn't. I walk outside, and sit on the bench next to my favorite cherry tree. I read Nick's favorite book for a couple hours. When I go back inside to make lunch, I make lunch for only me. Then, I go back outside to pick fruit from our cherry trees and plum trees. I never eat the fruit. It doesn't taste sweet anymore. For dinner, I cook anything I want to cook. I leave out Nick's plate overnight. In the morning, I clean it, and make the coffee, and cook the scrambled eggs for two.

Nick and I almost never argued about anything. The only two things we ever argued about were what pets we were going to have, and the trees in our backyard. I've always preferred cherry trees to plum trees. Cherries are so much sweeter than plums. And cherry trees are much more exotic than plum trees. Cherry trees can be yellow and red. Plum trees have no color, just white. Plain. However, Nick liked—loved—plum trees. He could make anything out of plums. Candy plums, plum pie, anything. I loved his plum pie.

We were married for thirty-five years. We met in our small town, Canton, Illinois, in 1937. I was fourteen, and loved riding horses, reading, and writing. Nick was a fifteen-year-old teenage boy. He loved to farm, but could barely read or write. I hated farming. We were opposites. But, Nick had heard of me from my older brother, Jacob, and had once talked to me in grade school. Both Nick and I had to drop out of school to help our parents on the farm. My parents struggled to feed us, so I was a scrawny girl. Every teenager at that time looked scrawny. Even so, when Nick proposed two years later, he said he had fallen in love with me the minute he saw me.

"Hey Roo!" A voice called while I was scrubbing my horse down. My papa was going to try and sell my horse for food, so my eyes were red from crying. I turned around, and stared at the dirty boy in front of me. His entire body was covered in dust and silt. His blonde hair was sticking up in all directions. He was clutching his horse's reins. I couldn't help but smile at him. He smiled back.

"Hi." My sadness about losing my horse crept back into my heart. I frowned, and turned, trying not to cry.

"What's wrong, Roo?" Nick asked. He put his hand on my shoulder.

"Papa's selling my horse." I sobbed. I cried into his shoulder for a very long time. When I stopped crying, he rode his own horse back home. But he would visit me every other day, and we would talk while our horses would chase each other around my family's fields. After Papa sold my horse, Nick and I would ride his horse to the lake, and bathe in the cool water. We were, and would always be, best friends. When I was sixteen, and Nick was seventeen, we got married in the local Church.

I decided to go to college when I turned seventeen in 1940. I applied and made it into Knox College in Galesburg, Illinois. Nick refused to apply, but he followed me to Galesburg. While in college, I studied art. One day, I started feeling nauseated, so I went to the doctor's. He informed me that I was pregnant. That was the happiest month of my life. But then, the Japanese attacked Pearl Harbor. The United States entered World War II. In January, Nick was drafted into the army.

The day Nick left, I hugged him tightly. I was speechless. Nick whispered in my ear, "I'll come home soon."

The war raged on for over three years. I finished college, and began to work at an art museum. I had our first child, Tim. Every morning, I would listen to the radio, begging for an announcement that said the war was over. On September 2, 1945, an ecstatic soldier came on the radio. "The war is finally over!" He shouted. His voice was shrill with happiness, but familiarly rough. I somewhat recognized it. The boys in the radio station talked for a while with the soldier. I was about to leave to drop Timmy off at Nick's parents', who moved to Galesburg to help me, and go to work when the radioman asked the soldier,

"So, what are you going to do now?"

The soldier answered, "I'm going home and seeing my wife, Roo Leansin!" I screamed, and hugged the radio. The next day, Nick busted through the front door. Some of his army buddies who were travelling with him squeezed through the small frame with him. "Roo!" Nick cried. He picked me up, and hugged me so tightly I could barely breathe. "I missed you so much!" He kissed me so passionately that it took my breath away. All his army buddies, and the two-year-old Timmy, laughed and clapped.

Nick got a promotion and a medal for his service in the army. Five years later, the Korean War broke out and army officers came back to our house. Thankfully, Nick was at his job in town. Timothy was at school. Leah, my first and only daughter, and my newest baby, Ralph, were playing on the floor. I was playing with Leah when the officers came. They pounded on our door. Annoyed, I picked up Ralph, and carried him to the door. When I opened it, I saw the officers. I almost slammed it closed in the their faces, but one shoved his foot in the door. "Ma'am, is Lieutenant Nicholas Roberts here?" I balanced Ralph in my arms.

"No." I scowled. They asked me many questions. Then Leah started pulling my skirt and moaned. An officer, Major Thomas, asked how old my children were. "Timmy, who is at school, is seven. Leah is four," I hugged Mikey closer. "My baby here is eighteen months." The other officers shifted uncomfortably, but Major Thomas asked me about my children, and Nick and our life in Galesburg. Leah started groaning louder and Ralph burst out crying. "I'm sorry, I have to go feed them." The army officers left. They never came back.

I walk through the trees, touching the bark of my rough cherry trees. But then I come upon the plum tree that Nick found so many years ago. The hole in my heart widens when I see the medal hammered to the tree. It widens further when I notice the carving in the bark near the base. My stomach flips. It is a heart surrounding, "RR&NR". I can feel my heart stop beating. That is from forty years ago, when we first moved in. I fall on my knees, and hold my face in my hands. A cold dread fills my entire body, like an icy fire. Tears stream through my hands.

I eventually manage to get up, though I don't know by what strength. I walk away from that tree and the house that brings back so many memories. As I walk, I come upon a marsh that Ralph found at least twenty years ago. I sit on a moldy rock, and sink my feet into the mucky water. Then, I slip off the rock until the dirty water envelopes my entire body. I can see Nick's face. "I'm coming, Nick." We smile in unison, as we always used to do.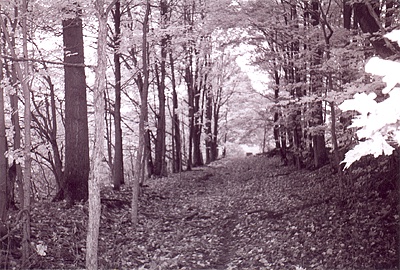 © Casey P., Howard, OH