Alternative
November 11, 2011
First of all, I'm not a tomboy. I'm just not a girly-girl like the others in my grade. I mean, what the hell is the point of wearing these stupid, prissy little dresses and slathering on fifteen layers of makeup when the idiot boys at school don't even notice?

Bella, my best friend, agrees with me. We're the only two out of about a hundred freshmen girls that don't believe in dressing up every day just to impress some oblivious boys that aren't even worth it anyway.

The other girls say we're weird. They say we're lesbians and prostitutes and other things I'm not going to repeat. We used to let it bother us, but now we can easily ignore them. Why do we care what they think, anyway?

I don't like being called a tomboy, a lesbian, or a prostitute. Bella and I prefer the term "alternative". I think it's the perfect description for us. While the other girls will dance around delicately in their glittery prom dresses and hazardous stilettos, we'll be having real fun in converse and t-shirts.

Don't think we were always like this. No one already knows who they're going to be. So, yeah, I'll admit that in fifth grade Bella and I went to some sleepovers, wore the same types of clothes as everyone else. But that was before we bridged the gap into middle school, before all the girls started having "boyfriends" and spending hours every morning applying their makeup. Bella and I are not those types of people, and somehow that bothers them.

Maybe that pleases me a little. I mean, there is the small chance that those girls are deep-down jealous of the fact that Bella and I are unique and have the ability to express themselves, unlike the Barbie clones.

I love being alternative.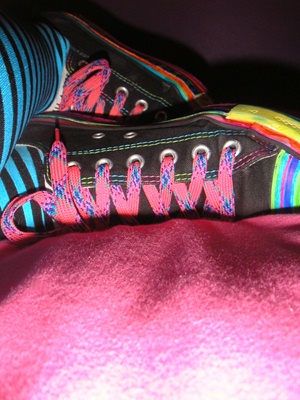 © Melanie R., Milpitas, CA