This Time
November 29, 2011
You were always a runner. I knew that.
My mind wraps around the essence of the last evening – you, running for joy in the sunset light, not caring. Your hair in your face, your mouth wide open in a smiling glowing laughing loving grin. The cliffs of my old dream rise up before my eyes again.
You were always a runner. I was always a chaser.
Saying 'chaser' makes me think of the words our mother used. She'd say 'chaser' to refer to the drink of something we always required to wash down the taste of medicine. I wash away your bitterness. I am a drink. A chaser.
There is nothing but desert below us and nothing but sky above, and when we gaze off to the horizon only the foothills gaze back. The plains town around us wants nothing to do with our dreams.
You are the runner. I am the chaser. You are the leader, I am the follower. You are the original, I am the copy. You are the first, I am the next. Anything you are, I come after.
You are the medicine. I am the Gatorade. My sweetness washes away your bitterness. The wounds you inflicted on our mother's heart I cleansed with my tears for you.
But even my tears are salty, and our mother's heart's blood smells of iron.
You, running for joy in the sunset light. Sweaty hair, blood rising to flush your face, hidden tears. You hide them, but when the moon finally rises and glints in your eyes you cannot hide them anymore. You hide much more than tears, things the moon cannot expose.
But I am not the moon, and I know your secrets. Why will you not share their burden with me? That is, after all, what I am for.
Remember. Anything you are, I come after. Anything you say, I echo. Anything you do, I help. Why don't you see that?
Because you are a runner. You see only what is ahead of you. You are foresighted to a fault. Sweat and tears sting your eyes and when they clear you still cannot see.
Ordinarily, because you cannot see, I must then shield your eyes for you. This time, sweat and tears sting my own eyes and when they clear I can see what I must do.
This time, I do not shield your eyes.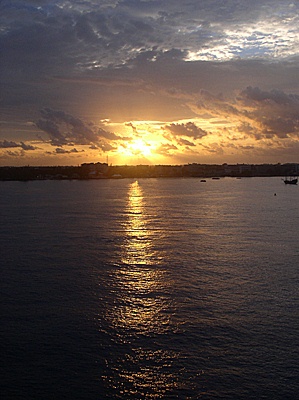 © Rebecca Y., Los Angeles, CA