A Flute Story
February 29, 2012
"Shelby, I have told you a thousand times we can't afford for you to have a flute or any kind of instrument. I'm sorry, but we just don't have the money for that kind of stuff," my mom told me.

"I know I am just saying I am in the 6th grade now, so I can finally be in band, and I want to play the flute," I replied.

"Honey we just don't have the money. I'm sorry I we wish we did but we don't. We just spent money on renting this house in Homer so that you, Haley, and Cody could be safe, especially to keep you from being bullied. The only way you would be able to play flute or even in band is if we got the instrument for free or for a really low price."

"I know and I am happy that we moved from Rantoul, I am probably the only kid here that is happy to be here, since I was the one that was bullied by all of her friends except for one, because Haley and Cody weren't bullied by their friends."

"I know that honey it is just we can't afford one right now but maybe next year."

"You always say that."

"What?"

"Maybe next year, and it comes to next year I'm sorry but we still can't afford one, by the time I get one I'll be out of high school and maybe not even then because we can't afford anything anymore."

"I'm sorry that we are poor. I just can't help it, people can't always control everything, I wish that I could just pull out a flute out of thin air but I can't, that I didn't have to say no to you guys all the time, and that I could give you guys everything that you guys want, but I just can't, OK."

"I understand that you want to give us everything that we want, I understand that, but this is one thing that I have wanted to play ever since I saw a flute and I keep thinking when I am in 6th grade and am able to be in band. I want to play flute and I told you when I first saw one and you said that I probably could but then that all changed."

I was crying really bad by the time I finished what I said to her, so mom came up to me and tried to calm me down. She said, "Stop crying it's OK. I know I said that but I can't help it, I know that it's rough being in a poor family and you want something but can't afford it and can't have it."

"No, you don't, you got to be in band, but you were the one that decided to quit. You just don't know what it's like being the new girl in school a lot. This is probably not even going to be the last time we move and being the new girl in a school, I said while storming off to my room.

For the rest of the summer, I never mentioned the flute or band ever again, until in the middle of the summer my mom said, "Your dad and I have found a flute for you to play in band."

I was so happy I was smiling from ear to ear, but then I remembered the argument me and Mom had in the beginning of the summer and then I frowned.

"What's the matter honey, I thought that you wanted to play flute," Mom said.

"I do; it's just what about what you said earlier in the summer about us not being able to afford a flute or any other instrument for band," I replied.

"I know but I was talking to the landlord Jim and his wife Chris and I was mentioned that you were upset and they asked why and I told them that you want to pay flute in band this year and they said that they had a flute that they aren't using and that we could have it so I asked them 'how much do you want for it' and they discussed it and they said 'you guys can have it for free.' I told them that we couldn't, but they said to take it as a gift for you. We thanked them and waited until today to tell you, but you can't have it yet, not until it's closer to school."

"OK."

"But..."

"But what?"

"The next time you see Jim and Chris you have to give them a great big hug and tell them thank you."

"OK."

Later on in the summer I did tell them thank you and gave them a hug. They were so happy that they made me happy. They said it was no problem.

But then one day when my mom and dad showed me the flute I said, "Wait but I don't know anything about the flute."

"That's OK I have already contacted the school and they said that Mr. Lee, the band director will teach you everything you need to know how to play it," my mom replied.

So when school came around on the first day of band Mr. Lee came up to me and introduced himself and told me that next week he would teach me everything I need to know.

So when it came to the next week Mr. Lee pulled me out of PE and asked, "Do you have your flute with you?"

"Yes, it's just right over there," I replied pointing over to the bleachers where it was laying.

"OK go get it."

So when I came back with my flute he opened up my flute case and showed me what the parts were called, he said "the part you blow into is called the head joint, this long part is called the body, and is small piece is called the foot joint, and today I am going to teach you how to blow into the head joint."

So he put it up to my mouth and showed me how and told me to blow, but nothing came out and he told me I was blowing too hard but after a couple of days I finally got it.

Then he said he was going to teach me how to assemble it right. So he put it together and explaining how it goes on and told me to try and I got it on my first try. But we were running out of time, but since it was a Thursday he told me that he was going to show me how to hold it right.
So when band came around that day I made a new friend that was in my band class her name is Southerlynn, while we were talking she asked "Where did you get your flute?"

"Well I didn't buy it, I got it for free from my landlord, Jim," I replied.

"Oh cool, that means you have my flute."

"How?"

"Well Jim is my uncle and I gave it to him and his wife Chris."

"Why?"

"Cause I didn't like playing flute, I really wanted to play trumpet and my mom actually found one on sale and she got it for me."

"Oh cool, so you had flute lessons during the summer but didn't like playing it, so when you got your trumpet you started taking trumpet lessons."

"No we had band in 5th grade, didn't you?"

"No."

"Oh, I didn't know, I'm sorry."

"That's OK I understand people make mistakes every day."

So the next day Mr. Lee pulled me out of PE again and taught me how to hold it, so he told me to hold it, and when I did he positioned my fingers how they are supposed to go and when he told me to try I got it right away.

But when band came around he gave us books that have warm-up songs in them. So when I got mine I told him "I still don't know how to play notes."

"That's OK these books also have how to play the notes in them," he replied.

So that day when I got home after I was done doing my homework I got out my flute and my band binder that had the book in it and played the whole thing.

So the next day, when I passed Mr. Lee in the hallway I said "I played the entire book in one day."

"That's great, you'll have to play me some of the songs out of it sometime," he replied.

"OK."

So during band he chose some songs out of the book and told me to play them so I did, and he said, "You did a really good job on those songs."

So later on that school year, he chose harder songs, and I played them perfectly every time.

When that school year was over I moved to Tolono and I moved in 7th grade now, and I did even better in 7th grade even better than I was in 6th grade. When I told the 7th grade band director, Mr. Jean, about how I learned he said "that is very good you are the only one that has taught yourself how to play your instrument and started to play in 6th grade, everyone else has started in 5th grade."

Even during that year, I got better and we got harder songs I couldn't play but I practiced them every time I got the chance to and finally got it.

After 7th grade I moved again but this time to Monticello and I am now in 8th grade, and I am doing better than what I was in both 6th and 7th grade. I am still playing harder songs every time, even hard songs I have to practice a lot in order to get them perfect. But I don't care how much harder this band director, Mrs. Allen, gives us, because if I practice them and I will get them right and that's what I love practicing hard songs. But yeah there are sometimes where I wanted to give up on the song but I don't cause it is too much fun playing flute I just don't want to stop playing.

I want to play flute every day of my life, even next year I am going to play in band and hopefully concert band in 9th grade no matter what school I go to next.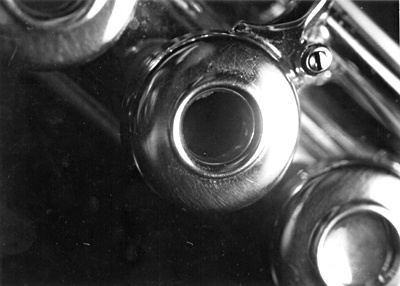 © Roslyn A., New City, NY