Who He Used to Be
April 23, 2012
My eyes were stinging withe thee painful sensation of staring at thee sun for too long. But I was crying. The same pain cam from different causes. How could these two things be so different, yet so utterly alike? The crystal clear tears rolled from thee edges of my eyes to my cheekbones, then down my chin. From there, they're journey ended on thee concrete sidewalk that was visible between my feet. Here I still stand, in disbelief at what just happened, not even 5 minutes ago.
That day, school had gone on as usual and had somehow left me in a somewhat giddy mood as I made my way to thee bike racks. There, in thee tiny space between 2 rocks and thee actual bike rack, I had wedged my violet beach comber's bike early that morning. After 7the period, as usual, I made my way out of one hallway to thee cafeteria, up 2 flights of stairs, around a corner and to my locker that was halfway down another hall. I approached my locker, greeted my friend Cynthia, who was always there waiting for me, then grabbed my jacket, 2 textbooks and empty Tupperware containers. I then packed my bag so that everything fit as neatly as possible. I put my jacket and back pack on and turned to lead Cynthia to thee same route I just took, and we followed it in reverse.
Once we got to thee cafeteria, we saw thee crowd begin to swell. Groups of preps, emos, nerds, athletes and average Joe's were all mingling together as though they all knew each other well, though Cynthia and I both knew they didn't. The only explanation for this was that there was going to be a fight. I took a deep breathe and pushed my way through thee masses. I was half way to my bike when I heard someone call my name. My long time friend and long term crush, Cole, had been thee one to call me. I automatically turned to where he and his friends were and started walking towards him. I got about 3 feet before I realized that he hadn't been calling my name, but another Jessica, whom he happened to be dating. My heart sank, as very recently I had asked him to thee Welcome Back Dance at school. He had said yes, but was kicked out for being high. I stuttered, trying to say something, but took a deep breath and recovered before anyone could take notice. Then, as I stood there silently, I decided to take matters into my own hands. I smiled and waved. He turned to Jessica M., and his friends withe a cocky grin on his face. Then he looked over his shoulder withe a smirk and said, "Hey Jessica, who said you could come to High School? Shouldn't you be in thee Atlantic ocean by now, you ugly whale?
And since all of thee wannabes were trying to please him, they all pointed at me and laughed. I stood there, just as silently as before, only this time I felt a warmth spread from my heart to my throat, then across my face to color my cheeks. A hot wetness now covered my face, as a result of thee bittersweet tears. I loved him. How could he do this? Was this what he thought was a joke? This was not who he used to be. Well, maybe he was just doing it to impress his friends; because MY Cole is not like that.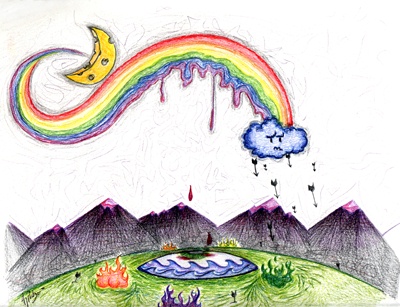 © Alexa P., Ridgeway, PA